A guest post by Amy Anderson, Cancer Community Center
BOB'S STORY
"When I was in treatment for head and neck cancer, a molded mask was made to fit over my face and shoulders. The mask was then bolted to a table. I remember feeling confined and claustrophobic 20 minutes a day, five days a week for eight weeks."
Bob Moulton remembers his treatment regimen after his diagnosis in December 2010. "I felt like my whole world had fallen apart. The wonderful people at the Cancer Community Center were right there to help put my world back together."
Golfing became a hobby for Bob upon his retirement from the City of Portland Fire Department. In December 2010, Bob escaped Maine's snow powdered ground for the green of the golf courses in Florida. At the time he thought he had a common cold and dismissed it for a week, but something just didn't feel right.
Ending his vacation early, Bob went to visit one doctor, but he felt like he needed a second opinion. His primary doctor did a CAT scan and didn't like what he saw. "I was 57 and I had stage 4 head and neck cancer. I had biopsies and two operations done right away. I was told this type of cancer had a good success rate."
Bob underwent eight weeks of chemotherapy and radiation. "I will never forget the feelings of claustrophobia from radiation." The confinement didn't stop at the treatment table; it trickled over to the dinner table. The burning from the radiation caused damage to his taste buds and saliva, so he struggled to enjoy the foods he knew and loved.
One would believe that Bob would feel some sort of resentment toward cancer, but he actually thanks cancer. He has six grandchildren. The newest of his kin was born March 31, 2011, the year of his diagnosis. "I focused on my granddaughter being born. I needed to get to the finish line. When I see her now, I look at how innocent and pure she is, and I know how far away from cancer I am, and I am happy."
Bob went to the Cancer Community Center with his wife immediately after he was diagnosed. "Executive Director Michele Johns sat down with us. She was so reassuring and just constantly reminded us that people were there for us. They really cared. I started going to Maggie Clement's Meditative Hypnosis session. The class changed my outlook. It was a 'mental massage' that helped us forget about cancer for an hour and let our minds go to wonderful places. I soon realized that living in the moment was essential."
Another first for Bob was receiving a Buddy through the Center. Dan Barr was his Buddy and he was an instrumental part of Bob's recovery process. Bob keeps in touch with Dan to this day and now Bob has become a Buddy himself. "The Center works hard to match you with a Buddy who has had the same or similar experience. You can talk with him about everything; how to tolerate the pain, how to cope and most importantly, you can ask him the tough questions that only a person with head and neck cancer can relate to and reassure you that you can do it. Buddies understand.
"Cancer taught me that we all have a timeline. Cancer has put a timeline on my life, and I appreciate every day, every moment like I never have before. Whatever it is, do it; and do it now. With that, I am happy every day."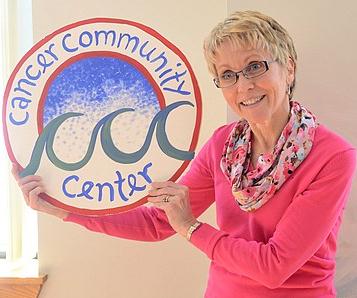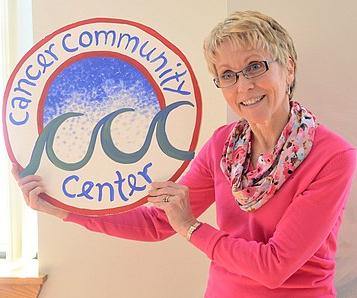 LISA'S STORY
Imagine your entire life altering due to something out of your control. Lisa Hachey's life changed in an instant after her cancer diagnosis on October 1, 2001.
"Adenoid Cystic Carcinoma was the final diagnosis," Hachey said, "I had a lump in my neck that was misdiagnosed as a swollen lymph node by multiple doctors as well as an emergency medical technician. I wasn't happy with that answer, I wanted it out. After a biopsy, I got a call from my primary care physician, who was crying on the other end of the phone. I had an extremely rare form of cancer in my salivary glands. One week and two days later I was at Dana Farber Medical Hospital in Boston, Massachusetts.
"After a five-hour neck resection surgery, I underwent seven weeks of radiation. My husband and I got an apartment in Boston for those seven weeks. I am a stay at home mom and had been for 25 years. Leaving my two girls at home was one of the hardest things I have ever had to do.
"When I was first diagnosed, my oldest daughter was at an age where she knew something was going on. I explained to her that cancer was in my life—in our lives now—but that it would not run our lives. I have lived by that for 10 years now. When first diagnosed, I was anxious and worried, but for the most part, I don't get up in the morning and think, I have cancer. There is no cure for what I have, but I don't dwell on it. It is part of my life. I tried to shuffle and get a new hand, but I got dealt the same one. If there is one thing I have learned from this, life goes on."
Lisa has volunteered throughout her life, and after her cancer diagnosis, she wanted to reach out and help others. She got in touch with the Cancer Community Center and has become a Buddy to some amazing people. She has also served as an unofficial Buddy and supportive friend to many.
"I received a phone call from my Buddy about a young man in Falmouth who shared our type of cancer. She asked if I could call him and give him some guidance. When I phoned him, his third child had just been born. He returned my call later and I could hear the weight of the world in his voice. We scheduled a time for him to visit me in my home. Of that first meeting, he later said, 'Lisa, walking through your front door was the best thing I ever did. I needed to see that my life was not over—that I could continue to be a thriving spouse and parent. Thank you!' "Cancer has been a positive part of my life. It has introduced me to the most amazing people.
"When I talk to Buddies—official or not—I always tell them that everyone is different. Tackle your own obstacles. Jump over your own hurdles. And they always tell me, 'Lisa, you were right.'"
WHAT IS A BUDDY?
The Maine Buddy Program™,  which is such an important part of Bob's and Lisa's lives, is a statewide initiative connecting individuals impacted by cancer with a trained volunteer Buddy who has had a similar cancer experience. The Cancer Community Center (CCC) finds Buddy matches for cancer patients, caregivers, and those who have lost a loved one to cancer. Buddies are available at any stage of one's treatment or loss experience. Matches are made using a wide variety of individual criteria including the type of cancer, treatment, age, and geographic location. Most Buddy relationships take place by phone, giving the CCC the ability to accommodate Buddy requests across the state.
The Cancer Community Center actively seeks cancer survivors and co-survivors (partners, parents, family members, friends and those who have lost a loved one to cancer) who would like to use their experience to help others. The next Maine Buddy training session will take place on Saturday, May 18, 9am-3pm at the Dempsey Center in Lewiston. Lunch will be provided. Cancer survivors and co-survivors should be at least six months out of their own cancer experience or loss in order to be trained to be a Maine Buddy. Pre-registration is required: call 207-774-2200 or email Jani Druck at the Cancer Community Center. 

To learn more about the Maine Buddy Program, visit the Cancer Community Center web site.