I am a grandmother, known as Nana to my two granddaughters Coraline and Penny. My husband is Grampie. Their other grandparents are Mimi and Papa. Because we're all doing our part to flatten the COVID-19 curve, Mimi and I can't make our regular trips to visit them like we used to. Visits that feed our grandmotherly souls.
So … like grandparents everywhere, we are finding other ways to engage. Mimi, for instance, has become an expert at creating and acting out adventure-filled stories with the Ghostbuster action figures that used to be my son-in-law's. Coraline loves the stories, which she and Penny watch every morning via FaceTime.
We also use FaceTime. What I like about it is that you can turn the camera on or away from yourself, which is great if you want to go for a little walk together. To search for our cats (usually sleeping) or to check what's happening outside (flowers are coming up) or to find Grampie (often working on a project). The other day, we made art together.
Recently, a friend told me a story about how sad her in-laws were that they couldn't see her daughter, who's nine. They wondered when she might be able to have a sleepover again. In two weeks, maybe? They just wanted to give their granddaughter a hug and make sure she was ok. I suspect they needed some loving affection themselves.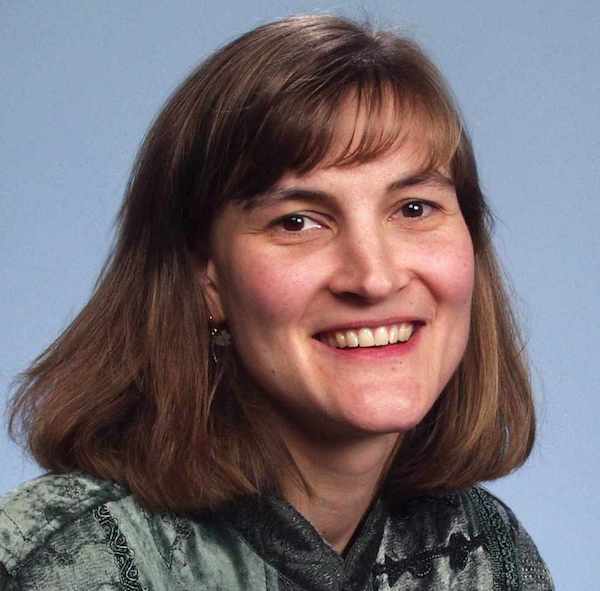 The thing is, for right now, love equals keeping your distance. Dr. Heidi Wierman, a geriatrician at Maine Medical Center, reinforces that message.
I tell my patients that social distancing continues to be the most important thing they can do at this time. We know that some in the community may be able to transmit the disease without even recognizing they have the virus. If these people are in contact with people with a higher risk of bad disease, like their grandparents, then they will inadvertently spread the disease to people who are more likely to die or get really sick. Being in contact with other people who are likely to have mild symptoms will just keep the virus circulating in the community, continuing to expose people who can develop severe disease and potentially overwhelming our hospitals."

Heidi Wierman, MD, FACP, Division Director, Geriatrics at Maine Medical Center
Older adults and COVID-19
Here's what the CDC says about older adults:
Older adults and people who have severe underlying medical conditions like heart or lung disease or diabetes seem to be at higher risk for developing more serious complications from COVID-19 illness.

8 out of 10 deaths reported in the U.S. have been in adults 65 years old and older.

Centers for Disease Control and Prevention
Staying protected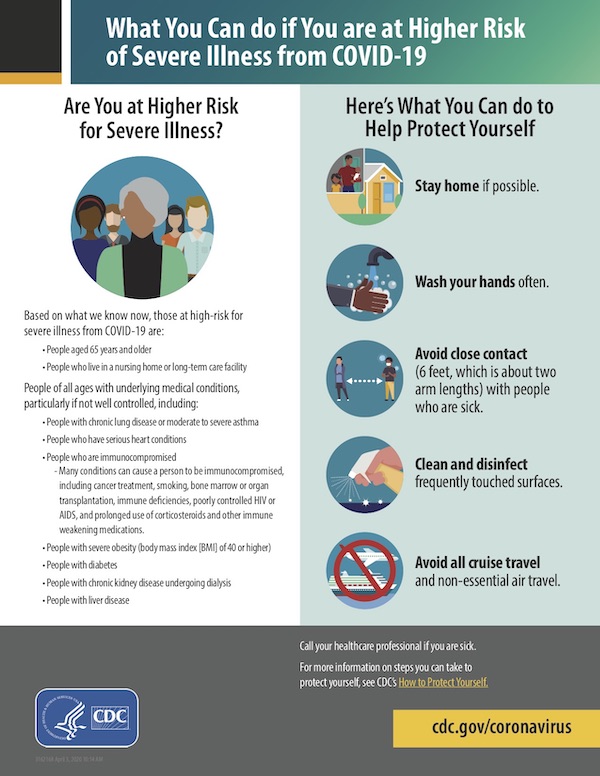 Staying connected
Realizing that grandparents everywhere are looking for ways to stay connected, I posted a message on FB to see if I could get some inspiration.
Calling all grandparents! I am going to write a post next week about the challenges of not being able to hug our grandchildren in person right now. It will include a reminder about why it's so critically important to stay apart, along with inspiration from grandparents who are finding creative ways to connect. How are you doing? I confess that I've been feeling pretty emotional the past few days. I watch a fun video of my granddaughters and wham, in the middle of laughing, I start crying. Any of you feel that way? How are you connecting with your grandchildren? Feel free to share pictures if you want.

Diane
I got several great responses:
We face-time with our grandchildren. I thought about hiding Easter Eggs around our yard and watching them out the windows. 😢

Alice Hamilton
My grandson held his arms out to me at the beach and I had to send him a virtual hug. I want us both safe, so …

Carolyn Stanley
I understand the tears! Same here. We're FaceTiming!

Judith Stevens
My grands live in southern Maine and NY so we don't see each other every week, but the idea that I can't just hop in the car and see them makes the distance between us seem even worse. I'm so grateful for video chats — can't imagine not being able to interact this way. I've been reading stories and found sources for activities on Pinterest that have been helpful, Knock-knock jokes are a big hit.🤗Tomorrow, we have one turning three so we'll zoom to sing Happy Birthday. Looking forward to better days ahead.❤️

Jeanmarie Fogarty Reed
It's hard at first especially when they want to know what you think of it and how you are doing. They know QueenAgers are at risk.

It's good to be honest that it's a hard time, that when you have your health you have everything, that you are staying healthy and following the rules, then lighten up. Tell them you love them and they can call any time and that is valuable connection. Encourage them to go for walks, wash their hands, hug a tree.

I wrote with a blank piece of paper included to some and SASE saying I don't get much mail and would they write. One made me a beautiful necklace.

I personally am taking an accredited American Sign Language class so I send some a word of the day from signschool.com. Fun learning and free interaction.

I feel like I do not want to go there and stand at a distance. I think verbal communication feels great.

A time to exercise, "Alexa, Pilates"
Cook, clean out draws, read, pray, do or receive Reiki and practice hopoponno.

Every day of being and feeling well is our blessing, reward for distancing and insurance for the future. That's all we can do and hopefully, it's the answer.

Barbara Foss
We played a game together on FaceTime and I read him a good night book on FaceTime.

Terri Swett McDonough
It's certainly a hard time for parents as well as grandparents. We are a few miles apart from our grandkids and both of us have been social distancing and seeing each other but this week I think we need to stop which will be very hard but the right thing to do!

Pinky McArdle
We are missing our grandsons terribly. Up until this crisis, we had enjoyed weekly sessions with Old — taking him to swim lessons, then the library and then lunch with Nana and Poppa. Then we'd take him home and have some quality time with his brother, now 5 months old. Since then we've done FaceTime and I've sent activities to his mom to keep him occupied. This all sucks, just glad everyone is ok.

Sally DeForest Magee
My grandson and his parents live in Chicago. His 8th birthday is this weekend. We have been doing FaceTme. He calls me and we can see one another in real time. It is a good solution.

Deborah Smith Zorach
My own mother, in her 60s, decided to leave retirement to go back to work as a nurse. Because of this decision, which I'm sure was intensely difficult and personal for her, she hasn't spent any time with our kids except through a window. She's not only heroic but an awesome Pip. It's been hard on all of us!!

Kaitlyn Cunningham Morse
Thankful for FaceTime with my youngest grandchild. I read her a book on FaceTime a couple of days ago. My older two grandkids live six blocks away … so, sometimes when I go for a walk, I stand outside their window and do jumping jacks. We do air hugs, too.

Judy Carlson
We've been doing some FaceTiming and that's a help getting through the days. It's hard as I was so used to caring for the girls every Wednesday. Now that they are home from school, I've been recording myself reading poetry to them, sending it to them, and encouraging them to do an art project about the poem. Mostly, I wanted them to hear my voice. Both girls have birthdays upcoming so we're planning a gift drop off with grandma and grandpa singing in the front yard! We've been FaceTiming with the younger California brands, as usual. We're used to the distancing a little more, but still concerned about how they're doing.

Jennifer Fitzpatrick
Virtual Grandparenting
Thomas Memorial Library in Cape Elizabeth, Maine is in the process of compiling a lengthy list of resources to help families stay "healthy, happy, and engaged". Here's a glimpse of some resources they found for grandparents:
How are you staying connected with your grandchildren? If you're struggling, you're not alone. It's not always easy to show love from a distance, but we can do it.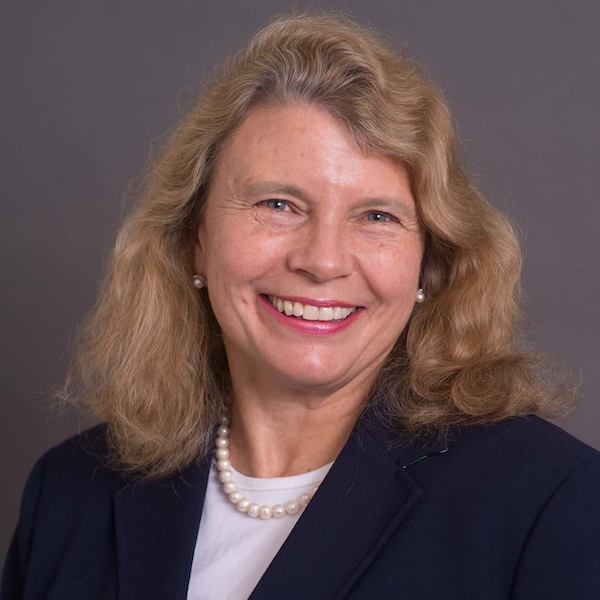 Not being able to hug our loved ones, including grandchildren, is one of the most difficult aspects of social distancing. But staying apart is the most important thing we can do to show our love right now. The virus cannot infect our loved ones if we stay apart.

Dora Anne Mills, MD, MPH, FAAP