Ever been in a food fight? I was in one the other day. Picture this. Plates of warm potato salad. Cups of curried squash soup. Tiny tarts topped with blueberries. Portobello mushrooms filled with stuffing. Now imagine a roomful of people flinging all that food (and lots more) at each other.
Some of you are probably thinking, "What fun!" And others, not so much.
Well, there wasn't too much, if any, flinging at this food fight. But there was a lot of slurping and crunching and lip smacking. And I did my share of it all.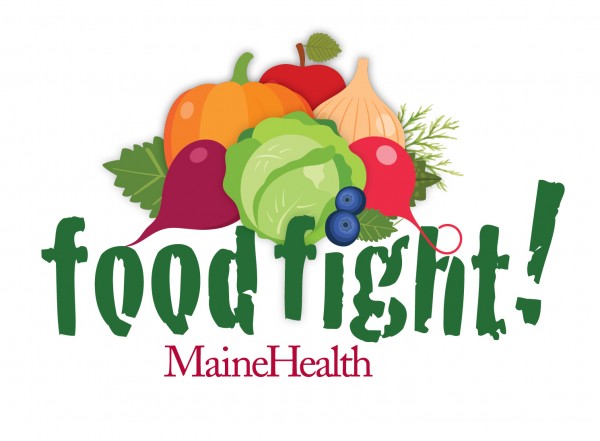 MaineHealth put on its first ever food fight and I was one of the "celebrity" judges, along with Matt Ginn, executive chef at Evo Kitchen + Bar (and 2015 Lobster Chef of the Year) and Deborah Deatrick, MaineHealth Senior Vice President, Community Health. (Deborah stepped up to the table and filled in at the last minute for Portland Press Herald food writer Meredith Goad, who got called out on a story.)
So … if food wasn't flying through the air, what was the fight all about? It was about pitting one healthy recipe against another. Rather, 14 recipes. Each submitted by an employee of a MaineHealth hospital or organization. Each featuring a healthy fruit or vegetable.
"It was a great way to engage our employees and also highlight what our food service directors are doing," says Emily Kain, program manager in MaineHealth's Community Health Division. "They play such a critical role in the health of our patients, our families, and our employees. Many directors will be incorporating some of the recipes into their normal rotational menus. Our hope is to see them on our cafeteria and hospital menus."
Several months ago, hundreds of employees submitted recipes, which got whittled down to the fourteen. The recipes that made it to the final Food Fight were recreated by Churchill Catering which is MaineHealth's corporate catering company.
The dishes were wheeled into a big conference room. Pens and judging booklets in one hand and food samples in the other, the other judges and I made our way from one tasty dish to the next. There was also a crowd of MaineHealth employees on hand to sample the food and vote for their favorites as well.
The contenders
Oriental Salad with Cabbage by Lori Ireland, Franklin Community Health Network
Stuffed Portobello Mushroom by SueEllen Chamberlain, HomeHealth Visiting Nurses
Pear Crostini by Karen Kleinkopf, LincolnHealth
Warm Curried Potato Salad by Kate Colby, MaineHealth
Pappa Al Pomodoro (tomato) by Michele Gilliam, MaineHealth Accountable Care Organization
Beet Burgers by Kristine Gile, Maine Behavioral Healthcare
Baked Broccoli Tots by Sarah Ireland, Maine Medical Center
Kale Quinoa Salad by Sue Ruka, Memorial Hospital
Carrot, Apple, Ginger Soup with Crème Fraiche and Scallion by Heatheranne Charlton, NorDx
Appleton Curried Squash Soup by Deb Schilder, Pen Bay Medical Center
Butternut Chickpea Curried Soup by Karen Unglaub, Southern Maine Health Care
English Pea Soup with Parsnips by Erin Dustin, Synernet
Leanne's Berry Topping by Leanne Temple, Waldo County General Hospital
Italian Spinach and White Bean Ragout by Heather Deschene, Western Maine Health
Judging criteria
Taste — Do the flavors go well together?
Originality — Did they do something creative with their fruit or vegetable?
Use of fruit or veggie in recipe — Is the selected fruit or vegetable the "star" of the dish?
Overall appeal — Does the dish look appetizing and colorful?
Food Fight Winner
I've got to tell you, it was so much fun sampling all those dishes. There wasn't one that didn't taste really good.
But in this final round of the food fight, there could be only one winner.
English Pea Soup with Parsnips by Erin Dustin, Synernet
Fellow judge Deborah Deatrick was happy to announce that it was her top choice. "I thought the broth was very well done," she told me. "The vegetables were kind of crunchy, the addition of the peas … it was just such a lovely spring dish. It sings spring to me."
Erin found the original recipe in a magazine three or four years ago and has made it for her family a few times. Her secret to success is homemade broth. "It absolutely is the secret," she says. "When you buy the vegetable broth, it's just not the same."
Erin was a bit overwhelmed with all the attention, but thrilled when Kate Guare, MaineHealth Marketing and Communications Manager handed her a trophy full of fresh carrots!
I've got the winning recipe right here, courtesy of Erin.
English Pea Soup with Parsnips
Author:
Prep time:
Cook time:
Total time:
Ingredients
Soup:
6 Tablespoons unsalted butter
2 fennel stalks, thinly sliced
1 carrot thinly sliced
2 parsnips thinly sliced and then quartered
1 pound of fresh or frozen English peas
2 scallions thinly sliced
8 radishes, thinly sliced then quartered
1 teaspoon each minced fresh tarragon leaves, parsley leaves and chives
Vegetable broth:
2 tablespoons of extra virgin olive oil
2 spring Vidalia onions or 1 leek sliced
1 fennel bulb, diced
2 celery ribs, diced
1 parsnip, diced
1 shallot, diced
2 tablespoons of kosher salt
½ teaspoon freshly ground pepper
1 garlic clove thinly sliced
Instructions
Soup:
In a large stockpot over medium-high heat, melt butter.
Add fennel, carrot, and parsnip and sauté until crisp-tender, about 5 minutes.
Add vegetable broth, increase heat to high, and bring to a simmer.
Add peas and cook until tender and bright green, about 2 minutes.
Garnish soup with scallions, radishes, and herbs and serve.
Vegetable broth:
In a large stockpot over medium-high heat, heat oil.
Add next six ingredients and sauté until soft, about 10 minutes.
Add salt, pepper and garlic.
Add one gallon of water and simmer until flavor develops, 45 minutes to 1 hour.
With a fine mesh strainer, separate solids from broth and discard.
Calories:
121
Fat:
8 g
Carbohydrates:
10 g
Sodium:
353 mg
Fiber:
3 g
Protein:
3 g
Cholesterol:
18 mg
Erin's soup is chock full of healthy ingredients, especially the parsnips. According to MaineHealth registered dietitian Corinne Cook, "Parsnips are packed with vitamins and minerals such as folate, potassium and phosphorus. They are also rich in the powerful antioxidant, vitamin C, in addition to being an excellent source of fiber. All of these nutrients are essential in making this flavorful root vegetable part of a healthy diet."
I confess that, while Erin's soup was delicious, I put another one at the top of my list. I liked the Appleton Curried Squash Soup. I also liked the Beet Burgers, and the Pear Crostini and the Carrot, Apple, Ginger Soup with Crème Fraiche and Scallions and …
Let's face it, they were all winning recipes. MaineHealth posted them on its website so you can try them all. I hope there'll be another Food Fight next year!