From April 2002 to November 2010, I was the manager of marketing and public relations at Mercy Hospital in Portland, Maine, now known as Northern Light Mercy Hospital.
In June 2004, we posted a job opening for a marketing specialist and one of the applicants was a young man by the name of Tim Hayes. Instantly likable. He had no marketing experience that I could tell but I didn't hold it against him, because neither did I when I applied for my position. My boss was willing to give me a chance, so why shouldn't I do the same for Tim?
One of the job requirements was to be able to write. Tim offered several samples, including articles he'd written when he was on the staff at the now-defunct Journal Tribune in Biddeford. He also proudly showed me a recommendation letter from one of his college writing teachers at St. Joseph's College in North Windham. None other than the highly esteemed Bill Nemitz from the Portland Press Herald. It didn't hurt that St. Joe's was my alma mater, as well.
I hired Tim for the job and in the four years plus he was there, we produced a lot of good work for Mercy, independently and as a team. But then he left. He'd been a college admissions director before working at Mercy and wanted to return to a school setting. I hated to see him go.
We stayed in touch sporadically and then out of the blue, I got a message from him asking how my family and I were doing during the pandemic. I think that's one of the positives of this lockdown. People are reaching out to one another, making sure they're ok, just wanting to connect.
Ever the reporter and always looking for a story I asked if he'd like to write something about how he is coping with the pandemic. And so, wonderful human being that he is he said yes. This is Tim's story:
March 13, 2020, was a Friday. Fridays are usually days that fill a school building with positive energy … appreciation for an enjoyable end to another busy week, and anticipation of a restful, renewing weekend ahead. For about a week or so prior a buzz had been building, somewhat quietly, in my school and I'm sure in just about every school in Massachusetts and in many other states. It was becoming quite clear the novel coronavirus, or COVID-19, or whatever we were supposed to call it, was going to significantly disrupt the school year, at least for a few weeks and possibly longer. As Friday the 13th drew closer, we realized we were heading straight into an unprecedented and unanticipated situation.

I have been a school counselor for 10 years after earning my masters degree in 2010 from the University of Southern Maine. In that time I have worked in schools in Maine and Massachusetts, the last six of which I have worked with middle-level students at a public charter school in Worcester. Like many of my public school colleagues, I fill some of my spare time with another job; I have spent nearly six years working with Mass 211, a United Way program that helps connect people to a wide variety of community resources (211 is a hotline that is available in all 50 states, including Maine). In a previous life, I worked with Diane for a number of years in marketing and public relations at Mercy Hospital in Portland. Diane was a great professional and personal mentor for me, and we have remained in touch over the years; she was even kind enough to create a wonderful piece of her artwork for me when I moved to Massachusetts!

When the pandemic took its fierce grip of the country this spring, I reached out to Diane to see how she and her family were doing. She gave me a great update on some old Mercy Hospital friends of ours, and she had a suggestion for me: write an entry for her blog about how I was coping with the pandemic. Yes, I said, of course! I would be happy to!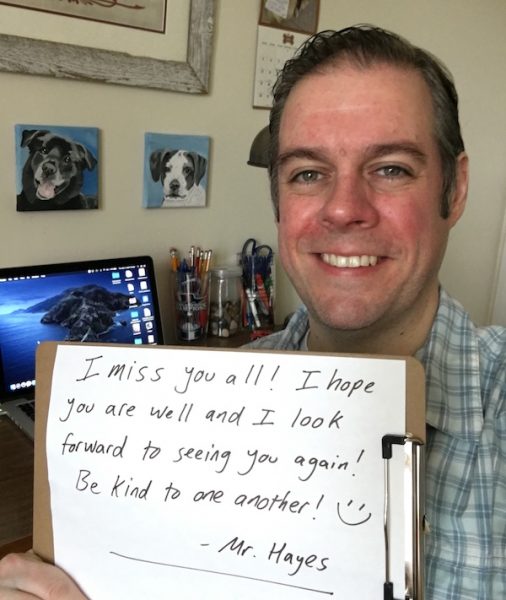 Fast forward to summer, and here I am finally getting to put thoughts down in print. Maybe that is illustrative of how things have seemed since that Friday the 13th … slow-moving. I have kept busy with work, which I am grateful for every day. The move to online schooling and the virtual environment has been tough on everyone. I'm extremely proud of my students and their families for how they have persevered, even thrived, during this very difficult time. I'm amazed at how high their spirits have been, despite the difficulties they are facing on multiple fronts. My colleagues have innovated on the fly and re-shaped the way they deliver instruction, literally in a manner of days. I am so impressed with them. Our building administration, in particular our principal, have placed an emphasis on communication with staff to make sure we all feel connected as well.
I have enjoyed the new challenge of helping students and families deal with this upheaval. In a way, this has been a bonding event for all of us and has brought everybody a little closer in ways we would not have considered before. My two dogs have become the stars of just about every Zoom meeting with my students. I've met younger siblings I probably wouldn't have had the opportunity to meet otherwise. I know as we head toward the fall, the challenges will evolve and change, and I will have to do the same.

My work at 211 has helped me to remain grounded. I am fortunate to be able to speak with people and listen to their stories. I'm not going to dress it up: there is a lot of pain, confusion, anxiety and anger out there right now. Thankfully, I know there is also a lot of good being done as well. I have gained a unique insight into this situation because I talk to a wide variety of people all across the state, every day. Some of the stories and situations they have shared with me have made my head spin at times. Each day seems to run the gamut of emotions. Some people cry, and some people laugh; some people are angry, while others are more resigned; some people want to vent, and there are some who want to hear my take on things. I feel lucky to be in a position to try to help people deal with this horrible situation.

There are moments when I feel a little tired at the end of the day. But that is OK with me. I'm lucky, very lucky, and I try to keep reminding myself of that. I have been tempted at times to want to whine or complain about this thing or that thing. I have sorely missed my workouts until just recently; I have been itching to go out for a nice Saturday morning breakfast with my wife; I'd like to get some semblance of my normal, pre-pandemic life routine back. I'd like a haircut! At least I know I'm in good company. Coping with being cooped up in the spring was tough; I was probably watching a little bit too much news and, let's say, not counting enough sheep at night. That has started to shift and things have evolved into a more normal-ish routine. I'm eating much less pasta now, after a sudden and massive increase around the end of March … pandemics make us do some strange things I guess. I've started to increase my exercise back to pre-COVID levels; I'm listening to music more, eating better, spending time doing things I enjoy. I think my experience is probably a familiar one to many people.

I appreciate Diane asking me to write an entry, otherwise, I'm not sure I would have documented any of this for the historical record. This whole thing has been a giant pain, and for many people, it's been much worse than that. I am hopeful when it is all over, I can look back and feel like I came out of it better than I was when it started.

Tim Hayes
Thank you, Tim, for sharing your story and for reaching out to me to see how we were doing. Your students and the people you help at 211 are fortunate to have you in their lives.