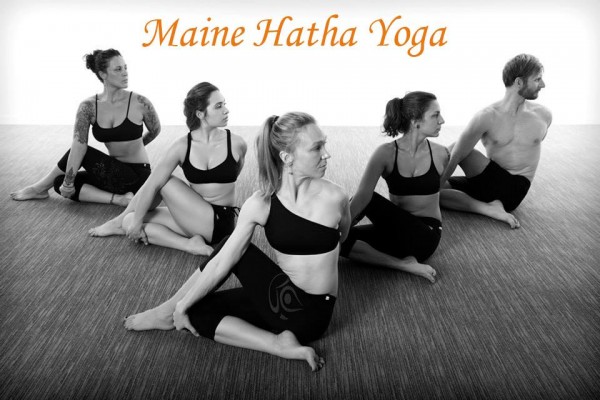 For twenty years, Angela Weymouth watched her brother struggle with opiate addiction. She and her husband, Michael Seymour, own Maine Hatha Yoga on Dartmouth Street in Portland. Since they first opened in 2002, they've known that people with substance abuse issues take their yoga classes. But only recently did some share their personal stories.
"In the past three or four years," says Angela, "individuals have told me this practice pretty much saved their life as they tried to recover from severe addiction."
One of them, Kelly Benson, became a yoga instructor at the studio. She used to live on the streets in Boston. She'd been in and out of treatment and detox centers a dozen times trying to get off heroin. The last time she was in rehab, she experienced yoga for the first time. It helped save her life.
"She told me early on that she was using yoga in combination with therapy to detox from severe opiate addiction," Angela says.  "She decided it was so powerful that she was going to become a yoga teacher."
Kelly tells her story in a short video she made for the Bangor Daily News' Recovery Project.
They teach hot yoga at Maine Hatha Yoga. The room is kept at about 100 degrees and the humidity around 30 to 45 percent. "It creates an environment where students are sweating profusely, so it's a very detoxifying process," explains Angela.
Hatha yoga is a slow-paced form of yoga. You go into a posture and hold it anywhere from 10 seconds to a minute, allowing your body and nervous system to integrate the benefits of the posture. "It's a good fit for any type of detox or when you want to create more balance in the body and the mind," Angela says. "Hatha yoga is a mindfulness practice. It's contemplative. You're able to observe what's going on in your mind and your body and experience a deep sense of awareness."
A few years ago, another student told Angela that Maine Hatha Yoga had something special going on. "He said I had no idea how many people from the recovery community come to this studio and used yoga to help them in recovery. He thought we should expand on that and reach out to the recovery community more."
In response, they began to offer one class a week for people in recovery, with Kelly as the instructor. Angela says she often thought about what else they could do, but a year passed and then another.
And then her brother died. "I knew at that point I needed to do more, I needed to," she explains. "Another year went by because I was pretty downtrodden by grief. Then I snapped out of it and I knew we had to put on a conference and invite people to speak about addiction. People who had brought themselves out of severe addiction."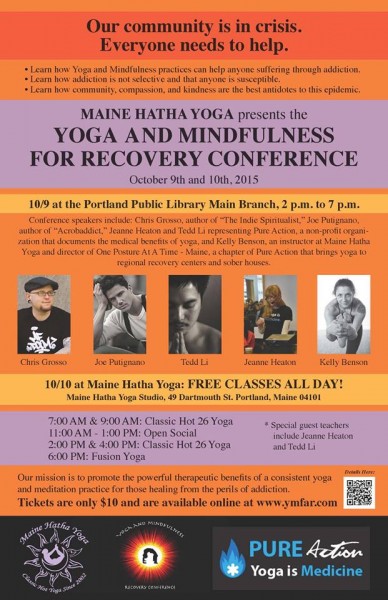 The result is the Yoga and Mindfulness for Recovery Conference, happening in Portland October 9th and 10th.
"This idea was sparked by my grief," says Angela. "I had read Acrobaddict, a memoir by one of our speakers, Joe Putignano. He described his journey from struggling with a heroin addiction to starring in Cirque du Soleil. I was so moved by his experience that I contacted him and asked if he would come to Portland and speak. He got back to me right away and said, 'Of course, I would love to do anything to help.'"
Other speakers include Kelly; representatives of PUREAction, a non-profit organization that documents the medical benefits of yoga; and Chris Grosso, who writes and speaks about his recovery from addiction. Chris will explain how the mental discipline of meditation can be a powerful tool in addiction recovery. He'll also lead participants in a guided meditation.
Angela says they will also launch the Portland chapter of One Posture at a Time. The program, which has chapters in Texas and New York City, brings yoga to people living in long-term or residential substance abuse treatment facilities.
Kelly and Angela will be going into recovery settings to teach yoga to residents and help them get into a yoga studio once they leave. They will create a scholarship fund and people will be able to donate yoga paraphernalia and they hope, also classes throughout the state.
"We want to give people in recovery the resources, "says Angela. "To say, we're starting you here with a yoga program and then when you leave, we're going to help you stay connected so yoga can continue to be part of your recovery.
Conference information
For more information about the Yoga and Mindfulness for Recovery Conference and to buy tickets ($10.00), visit the conference website. 
The conference is Friday, October 9th. You're also invited to an Open House at the studio on Saturday, October 10th. Classes will be free all day.
Do you have a story about addiction recovery?
Check out BDN's Recovery Project. They're asking people to share a video, "so we can capture and spread your messages of hope and support for those experiencing addiction."
You're also welcome to share your story (written, not video) here on the Catching Health blog.
[jetpack_subscription_form]