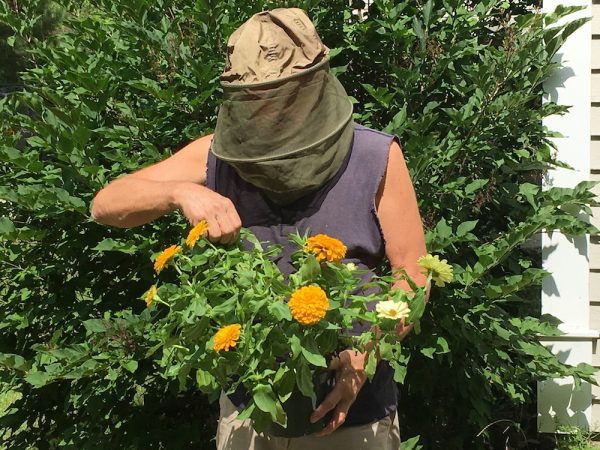 We get our fair share of bugs here in Maine during the summer. Whether you wear a special hat, suit up from head to toe or cover yourself in bug spray, warding them off can be a hassle. So can dealing with their bites and stings.
I've published several posts over the years on how to deal with the various critters — potentially life-threatening ones as well as simply annoying ones.
Black flies, for instance. I recently tried to convince you to see the goodness in them! 4 little-known facts about black flies that may make you hate them a little less
My husband's guest post about his deerfly hat trap was hugely popular. Get rid of pesky deer flies with this easy-to-make hat trap.
I read an article the other day that because this summer has been so dry, the tick population is down. That's good news, but we still need to be on guard. How to Recognize a Deer Tick and Protect Yourself Against Lyme Disease.
And don't forget your pets. Thanks to his vet back home in Maine, a sweet little dog is on the mend.
A sting from some insects may deadly if you're allergic. Deadly insect stings.
Earlier this summer my daughter got stung by two honeybees. Fortunately, she isn't allergic, but they hurt and were quite swollen. Sorry, no pictures. She made a poultice out of plantain leaves, which worked almost immediately. The swelling went down and her arm didn't hurt as much.
I was so impressed I asked acupuncturist Lauren Breau, who had recommended the poultice, to write a guest post for Catching Health, which she did: Herbal first aid for bug bites.
You might be surprised to discover just how many DIY remedies there are for stings and bites and even scratches and sunburns. Plantain isn't mentioned in this Infographic, but you'll find plenty of other soothing remedies, plus an important safety reminder.

Source: Fix.com Blog