Back in 2005, Chris Kuhn and his colleague and friend Dave Langdon were trying to come up with a name for a celebratory lobster bake and bike ride they planned to host. They settled on Not Dead Yet, straight out of one of Chris's favorite movies, "Monty Python and the Holy Grail."
The Cancer Community Center Connection
Not Dead Yet, the lobster bake and bike ride, has evolved a great deal over the years. In the beginning, Chris and Dave held the annual event to raise money for Livestrong, an arm of the Lance Armstrong Foundation. The second year, Chris attended a Livestrong convention in Austin, Texas and came back to Maine "jazzed up to start a cancer survivorship center in Maine," only to find out one already existed, the Cancer Community Center in South Portland. He and Dave immediately decided to make the Cancer Community Center the benefactor of their fundraising.
"The Cancer Community Center is about survivorship," says Dave, "it's not about research. It's about helping people live, deal, and survive with their disease. There's just a huge treasure trove of resources there. One thing they do that we love is they take the isolationist aspect of cancer and bring people back into the community."
Every penny Chris and Dave spent on their event came out of their own pockets and every penny they made went to the Cancer Community Center. Four years ago they all decided to join forces and now the bike ride and lobster bake are part of a huge daylong event called the Fight Back Festival. The festival is a family-friendly biking, running and walking event held each year at Pineland Farms in New Gloucester. It has become one of the Cancer Community Center's premier fundraisers.
The Real Story Behind "Not Dead Yet"
By now, you might be wondering why Chris and Dave have put so much effort into funding a cancer survivorship center. You might also wonder what the real story is behind Not Dead Yet, which is what their bike ride is still called. Most people love the name, but a few are offended.
The two men are radiologists who work together at Mercy Hospital, and they are both cancer survivors … at least so far, they are likely to add. Dave was diagnosed with bladder cancer in 2002. He had surgery and immunotherapy, and also had to deal with four recurrences. He's been cancer-free for about nine years, but takes nothing for granted. "It's sort of always hanging over your head, you're never free of it," he says. "Every year I go back for a check-up and every year the anxiety probably starts a month, month and a half ahead of time."
Two years after Dave's diagnosis, Chris was at a charity golf tournament when his leg went to sleep and began to hurt like the dickens. He figured an MRI would show a herniated disc, but instead, it showed a tumor wrapped all around his spine. "It was horrible, it was horrible. I had a chordoma. Chordoma is a bad cancer. I needed a lot of surgery, a lot of radiation, and a lot of time to kind of put things together. I just wanted to be able to carry my 18-month old son up the stairs to bed one more time, and I've been able to do it every night going on eight years. I have a lot to be grateful for and I think about that every day, and I try to help so that the next person with cancer doesn't have such a completely blank slate to look at."
When they decided to do the bike ride and lobster bake, Chris was not in good shape. "I was pretty close to dead at that time, but I wasn't totally dead," he explains with a wry smile. "I didn't have much function in my right leg, I couldn't feel most of my pelvis, and things were a little sketchy, but I decided to try riding my bike. I rode about 12 miles and thought as least I can do that, let's do it! As for the name we chose— Not Dead Yet — it's easy to remember and it evokes what we're trying to accomplish. It's 100 percent about cancer survivorship issues and trying to help people through a difficult time."
"The name is really more of a testament to what it takes to survive and that's true for the caregivers, probably doubly so, as well as the patients," says Dave. "We like the name. It has a history and personal meaning for us. Having a sense of humor is also important to both of us."
"There are very few things in life as isolating or terrifying as being told you have cancer and anything that can lessen the blow is a good thing in my book, "concludes Chris. "We think the Cancer Community Center is fantastic at helping people through a really bad situation. That's why we support them, and if we have to take a little heat for the name of our bike ride, so be it."
The Fight Back Festival
Last year's Fight Back Festival, including the Not Dead Yet bike ride, was a huge success. With the support of about 800 bikers, runners, walkers and event sponsors, more than $90,000 was raised to support the Cancer Community Center's free programs and services.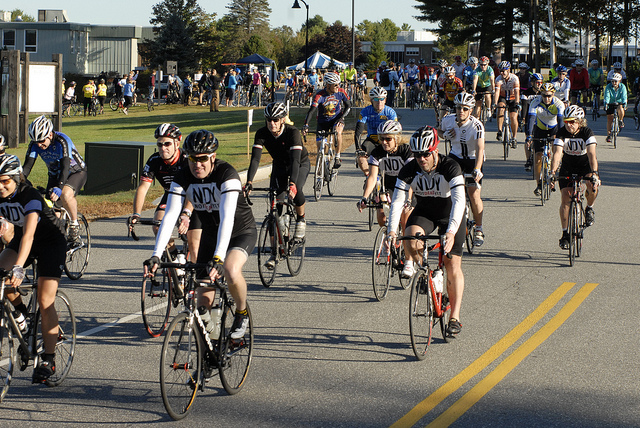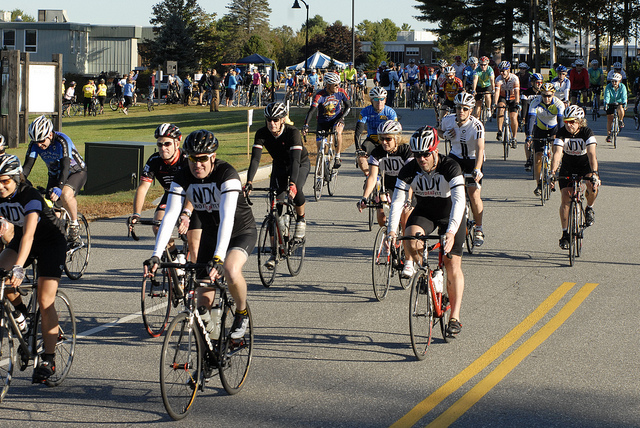 2013 Courtesy Maine Running Photos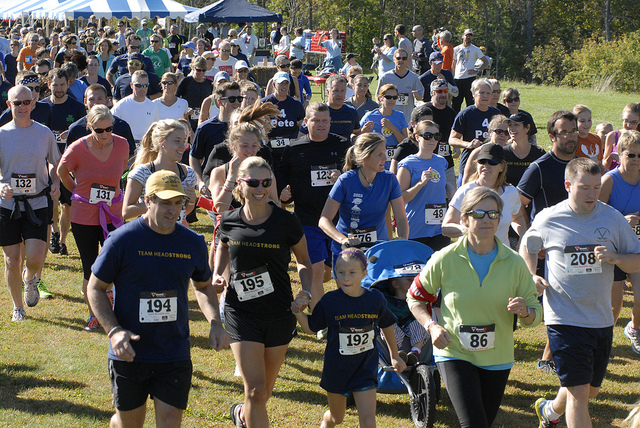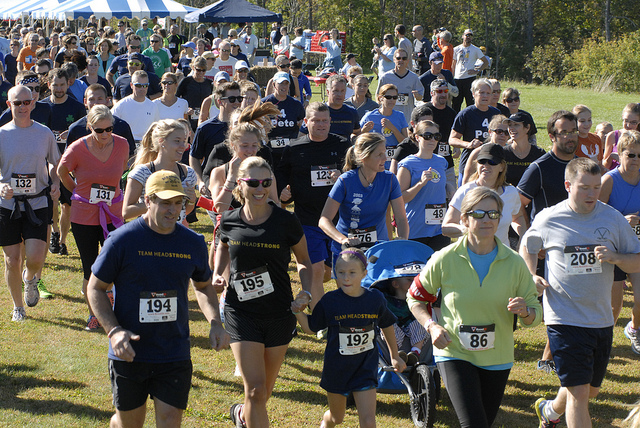 2013 Courtesy Maine Running Photos
2013 Courtesy me, Diane Atwood
This year, the goal is to raise $110,000!
2014 Fight Back Festival
Saturday, September 27, 2014
Pineland Farms Visitors Center
15 Farm View Drive
New Gloucester, ME

About 250 volunteers are needed to make sure the festival runs smoothly. By the way, you can participate in an event and also be a volunteer. For more information about the Cancer Community Center, the Fight Back Festival, including the Not Dead Yet Bike Ride — how to particpate, how to donate, how to volunteer at the festival — visit fightbackfestival.org.
If you'd like to read about another cancer survivor with a sense of humor who is participating in the festival, check out the Cancer Community Center's blog post: Meet Peter: Facing Cancer at Age 42 with Humor and Generosity.
Have you signed up for the Catching Health Newsletter yet?