In 1998, just 10 years before the Dempsey Center in Lewiston was founded by Patrick Dempsey and his family, the Cancer Community Center in South Portland was founded by Jane Staley.
Jane had been diagnosed with ovarian cancer four years earlier and wanted very much to find a place she could go that would offer support and information and most of all, a sense of community for people impacted by cancer.
She didn't find what she was looking for so decided to create something herself. She named it the Cancer Community Center. Jane has since passed away, but her beloved Center continues to provide a wide array of free programs and services and that sense of community she so badly wanted.
Like Jane, Patrick Dempsey's mother Amanda, who passed away in 2014, also had ovarian cancer. She's the reason why there is a Dempsey Center — the family wanted to give back to the community where their mother first received cancer treatment.
And like the Cancer Community Center, the Dempsey Center provides a wide array of free services and programs for people with cancer and their families. But while they may have collaborated on some things, until now, the two organizations have been separate entities, each serving the people in their respective communities and each working hard to raise the funds to provide their programs at no cost.

At a joint press conference today, Patrick Dempsey announced that the Dempsey Center and the Cancer Community Center plan to merge in early 2018 under the name of the Dempsey Centers for Quality Cancer Care. Currently, the Dempsey Center is part of Central Maine Healthcare, but under the new arrangement, the Dempsey Centers will be an independent, non-profit organization.
Wendy Tardif, the Dempsey Center's executive director, said "We will take the best of both centers and bring them together. We'll be able to really see what's working and what's not. We'll fine tune things and roll it out to other parts of the state. We want to work with others in the state who are doing similar work."
When I asked Nicole Avery, the Cancer Community Center's executive director, what she looked forward to most with the new relationship, she answered, "The ability to do some of the things we've wanted to but haven't had the capacity, either because of staffing or finances. Some of these things have just been dreams for us. Now we can actually bring them to life and that's really exciting."
When the merger is final, Wendy will be executive director of the combined centers and Nicole will take on a senior leadership role. Each center will continue operating in their current locations in Lewiston and South Portland and continue providing their usual services and programs.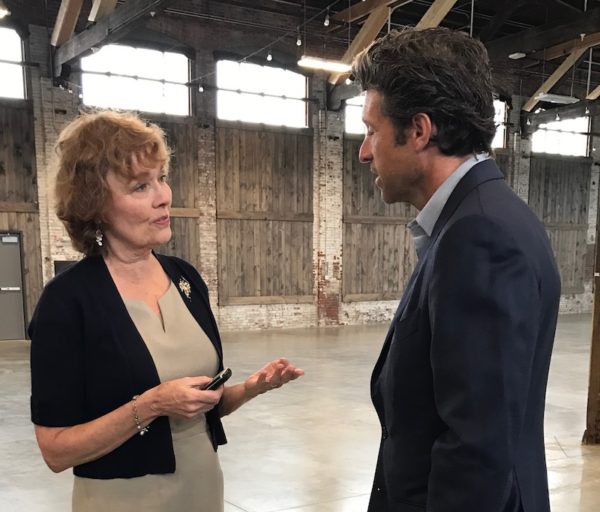 While the long term goal is to have Dempsey Centers throughout the state, Patrick said it was important to take a measured approach. "We will grow at the right rate," he said. "Not for the sake of growth but in areas that need it and in a way that is sustainable. I think we're just stronger working together. I think we can bring those resources together to impact more people."
Because of new cancer treatments, people are living longer and need services throughout their lives — the kind of services that the Cancer Community Center and the Dempsey Center have been providing.
"Together they will be able to provide an array of resources for all patients under active treatment, finishing treatment, or in the survivorship stage of their journey," said Dr. Steve D'Amato, New England Cancer Specialists executive director. The demand for services will only increase over time for those various patient populations."
Dr. Roger Inhorn said that having the support of a celebrity is also a welcome benefit. Dr. Inhorn is a medical oncologist and director of the Oncology/Hematology Center at Mercy Hospital. He has also been on the Cancer Community Center Advisory Board for several years. "We provide the services free of charge but that takes a lot of money," he explained. "It's always been a challenge to try to think of how to get those resources in the Portland market but now it's great to have a real life celebrity."
I'll give that celebrity — Patrick Dempsey — the last word. "The success that we have is because our volunteers, our staff and our community are behind it. They work very hard and do a tremendous job fundraising. And we all have a responsibility to take care of people as they come through the door."
People like Jane Staley and Amanda Dempsey.