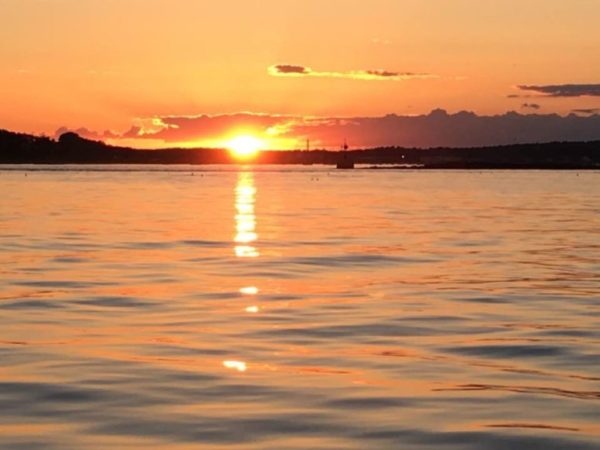 My husband and I were recently invited out to dinner with friends and it turned out to be a multi-faceted treat. The restaurant was Diamond's Edge on Great Diamond Island in Casco Bay (off the coast of southern Maine.) We traveled by boat and the night couldn't have been more perfect. It was balmy, even on the sunset ride home. We had time to take a short stroll around part of the island, which was really interesting. We dined on the porch and we all had fresh halibut — beyond delicious. And best of all, we had a wonderful time catching up with our friends.
Coincidentally, Catching Health had recently reached out to the restaurant's chefs for a recipe. Tim Labonte has been Regional Executive Chef at Diamond's Edge for five years. He's joined by Executive Chef Josh Hambrick and Sous Chef Brendan Tobin. Their recipe is not for halibut, but it is seafood — crab cakes.
Jen Boggs, my editorial accomplice, asked Tim a few questions:
What makes cooking on Great Diamond Island so special – and how is that reflected in your menu?
Although Diamond Cove is only a few miles from the mainland, you can't help but feel a million miles away. You're on an island with spectacular views of Diamond Cove with air perfumed by the sea. This is undeniably a seafood-inspiring location and it reflects both on our menu and with the specials the team prepares. Our guests take great effort to plan their journey out to Diamond's Edge Restaurant and Marina, and our staff reciprocates by ensuring expectations are met and exceeded.
What tips can you offer home cooks attempting crab cakes for the first time? Any tricks of the trade?
It's important to add half of your breadcrumbs and allow the mix to rest for five minutes as the crumbs will absorb moisture; if needed, then add remainder of bread crumbs. Remember, you can always add more, but once added it cannot be taken out.
Anything you'd like to add?
May your life and stomach always be full. And don't forget to pay a visit to our chef Nic Saindon at The Inn at Diamond Cove!
Maine Crab Cakes
with Sweet and Sour Radish Salad
& Ginger Remoulade
Crab Cakes
Ingredients
¾ cup caramelized onions (How to caramelize onions)
¾ cup aioli/mayo (What is aioli?)
1 ¾ cups wilted spinach
3 tsp Old Bay Seasoning
3 eggs
Breadcrumbs to bind
1 lb picked crab meat
⅕ cup basil chiffonade (basil leaves cut into long, thin strips)
1 oz honey
Instructions
Mix wet ingredients (aioli/mayo, eggs, honey & Old Bay) into medium-sized mixing bowl.
Fold in spinach, caramelized onions & basil chiffonade.
Fold in picked crab meat.
Add breadcrumbs to bind (about 1/2 cup) Should be thick enough to form into cakes.
Let mixture sit for about 30 minutes.
Form into 2.75 oz. cakes and coat them in bread crumbs.
In a sauté pan add oil and heat.
Sear crab cakes to a golden brown on both sides (about 1.5 minutes on each side). 
Sweet & Sour Radish Salad
Ingredients
2 watermelon radishes
2 scallions
1 handful mixed greens
½ cup rice wine vinegar
½ cup white balsamic vinegar
1 cup granulated sugar
1 bay leaf, sprig of thyme, anise
Instructions
In a small saucepan combine vinegars, sugar, bay leaves, thyme, and anise.
Reduce at a simmer by half (about 45 minutes)
Chill the syrup
Julienne radish (slice into thin round pieces and cut those into strips)
Julienne scallions (check out this helpful tutorial on how to julienne)
Toss radish & scallions in chilled syrup (not all the syrup will be used, adjust to taste)
Ginger Remoulade
Ingredients
2 cups aioli/mayo
½ cup Dijon mustard
1 TBS paprika
4 oz fresh ginger root
½ cup pickled ginger
Instructions
Juice or purée fresh ginger root.
Finely dice pickled ginger.
Whisk all ingredients together.
Salt & pepper to taste.
Assembly and Plating
On plate of choice, arrange a bed of mixed greens and a tablespoon of the ginger remoulade adjacent to greens.
Top greens with dressed radish mixture.
Put crab cakes on the remoulade.
Garnish with lemon and parsley leaves.
Enjoy your summer and your crab cakes!