Thursday was my cousin's 60th birthday. I have a present and a card that I was planning to deliver to her in person. Because of coronavirus concerns, on Monday, the thought crossed my mind that maybe I should mail them. I decided no, under the circumstances, I'll make it a quick visit, keep my distance, not touch anything, and wash my hands. Only in just those four days, the circumstances changed and the decision wasn't mine to make anymore.
You see, she lives in an assisted living facility which, for her health and safety, as well as the other residents, has temporarily closed its doors to visitors. I got a phone call this afternoon confirming that there are no cases of COVID-19 at the facility, but they're trying to do whatever they can to keep it that way. The person who called promised she would tell my cousin that I love her and I'm sorry I couldn't be there for her birthday.
The facility is following Maine CDC recommendations just as others around the state are trying to do. In fact, I was supposed to have a meeting at another facility a few days ago, but that was canceled for the same reason.
CDC recommendations for long-term care facilities and nursing homes
Here are the steps the CDC is recommending for long-term care facilities and nursing homes when there are cases of COVID-19 in their community but not in the facility. (As I write this post, three presumptive positive cases have been reported in Maine, two in Portland and one in Androscoggin County. The results need to be confirmed by the U.S. CDC.)
Policies and Procedures for Visitors
Visitation should be limited to only those who are essential for the resident's emotional well-being and care. The facility should send communications to families advising the COVID-19 has been identified in the community and re-emphasizing the importance of postponing visitation. Ideally, visits should be scheduled in advance during a limited number of hours. Any visitors (that are permitted after screening) should wear a facemask while in the building and restrict their visit to the resident's room.
Healthcare Personnel Monitoring and Restrictions
Restrict non-essential personnel including volunteers and non-essential consultant personnel (e.g., barbers) from entering the building.
Screen all HCP at the beginning of their shift for fever and respiratory symptoms.

Actively take their temperature and document absence of shortness of breath, new or change in cough, and sore throat. If they are ill, have them put on a facemask and self-isolate at home.
HCP who work in multiple locations may pose higher risk and should be asked about exposure to facilities with recognized COVID-19 cases.

Consider implementing universal use of facemasks for HCP while in the facility.
Resident Monitoring and Restrictions
Actively monitor all residents (at least daily) for fever and respiratory symptoms (shortness of breath, new or change in cough, and sore throat).

If positive for fever or symptoms, implement recommended IPC practices

Cancel group field trips and activities and consider canceling communal dining.
If you would like more information, you'll find it here on the CDC website: Preparing for COVID-19: Long-term care facilities; Nursing Homes.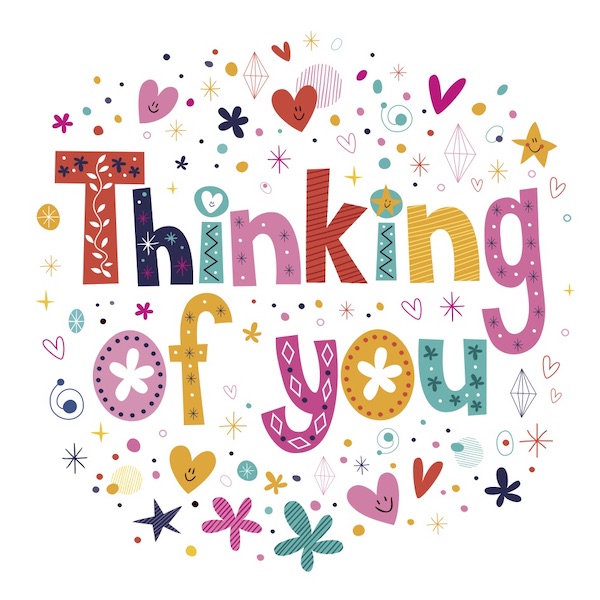 Instead of any in-person visits, for the time being, I plan to write notes to my cousin. She has memory issues, so she may not even remember that I missed her birthday, but what I learned from my mother, who also had dementia, is that there can be pleasure in the moment. I suspect it will make my cousin happy to open these cards and that I will also feel happy sending them.
If you are in a similar situation, how do you plan to stay connected? Before I hit the publish button, let me put in another plug for writing a card or letter. If you ever needed a reason to start writing, COVID-19 has provided one, but if you could still use a little nudging, here's some great advice from Christine Richards, who wishes everyone would write letters. I was just on her website and discovered that April, which is just around the corner, is National Letter Writing Month. Hmmm…