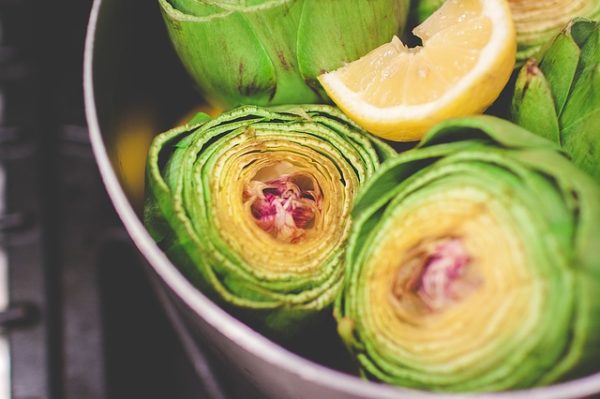 I LOVE artichokes. I remember the first time I had one at a friend's house many years ago. It was steamed with slices of lemon and cloves of garlic. To eat it, we ripped off the petals and dipped each one into melted lemon butter and scraped off the tasty part with our teeth. They were so delicious and fun to eat. And then, I discovered the artichoke heart!
If my friend hadn't shown me how to prepare, cook, and eat an artichoke I may never have given one a second look. If I did, I suspect I might have been intimidated and would have grabbed a more familiar vegetable. I would have missed out on something special.
If you don't have a clue how to handle an artichoke, you're in luck because I found a really helpful video — Artichoke 101 by Dani Spies at Clean & Delicious.
Before you watch it, besides tasting good, I have another reason why you should have an artichoke every now and then. They're good for you! No cholesterol, no fat, including saturated fat, few calories, and low sodium. They're also a good source of fiber, vitamin C, folate, and magnesium.
Click on the arrow to watch the video.
Grilled artichokes
Ingredients
6 medium artichokes (2 artichoke halves per serving)
1 lemon, sliced
1 to 2 cloves garlic
1/4 cup olive oil
1/3 cup lemon juice or balsamic vinegar
2 cloves garlic, minced
1 tablespoon minced fresh rosemary, mint, basil or tarragon
18 teaspoon each salt and pepper
Directions
Rinse artichokes in cold water.
With a sharp knife, cut off the top 1/3 of artichoke.
Cut off just the base of the stem, leaving most of the stem in place.
Turn artichokes stem side up and cut in half lengthwise starting at the stem.
With spoon or knife, scrape out the fuzzy choke in the center and discard.
In saucepot heat 3 inches of water to boiling.
Add artichokes, lemon slices, garlic cloves.
Return to boil, and then reduce to simmer.
Cover, simmer until artichokes are just tender when base is pierced with a fork, 15 minutes to 20 minutes, depending on size.
Drain well.
Combine all remaining ingredients in 9x13x2-inch glass baking dish.
Add drained artichokes, cut side down.
Cover and refrigerate until ready to grill. (Can be done a day ahead.)
To grill
Lift artichokes from marinade, reserving marinade, and place on grill over hot coals, cut side up. Cook until deep golden brown, about 10 minutes. Brush with marinade, then turn and cook until cut side is golden brown, about 10 minutes longer. Brush with marinade. Serve hot or at room temperature.
I generally steam my artichokes but it's always fun to try something different and these grilled artichokes sound delicious. What about you? Will you add artichokes to your menu?