I was doing some research for an article and feeling frustrated because I couldn't find what I needed. I decided to turn to the MaineHealth Learning Resource Center for assistance. It was a smart decision.The Learning Resource Center has been around as long as I can remember, offering health classes and education, and access to a resource library. It recently added an online component, which I'll tell you about in a moment.
The center exists primarily to help people become more actively involved in their health care and I was simply doing research for a blog post, but I figured nothing ventured, nothing gained, so I asked Jean Gould, one of the trained health educators, for some help. She obliged.
The article I'd been working on had to do with a study showing that while overall obesity rates have been fairly steady in this country over the past several years, abdominal obesity rates have increased. In addition to the study findings and why they're important, I wanted to include information in my post about why people gain weight just around the middle and how they can reduce that extra belly fat. Within two days of asking Jean if she could find what I needed, she sent me links to all kinds of credible, useful information.
If you have a burning health question like I did, go to the new MaineHealth Learning Resource Center website and you will see Ask Us Your Health Question. You'll have three options to connect with a health educator — call, live chat, or email.  At any time, you can fill out a confidential email form and expect an answer within 24 hours. You have a choice as to whether you want the educator to call you back or use email.
Three mornings a week — Monday, Wednesday and Friday from 9:00 am to 12:00 pm — you can have a live online chat with one of the health educators. Look for the image below on the MaineHealth Learning Center home page.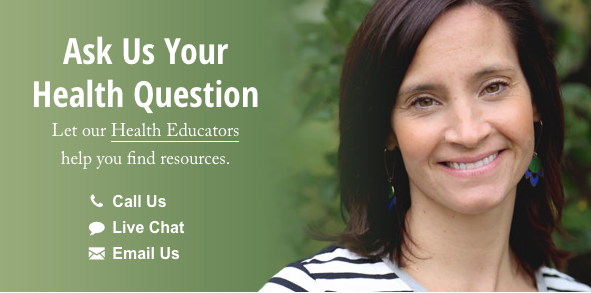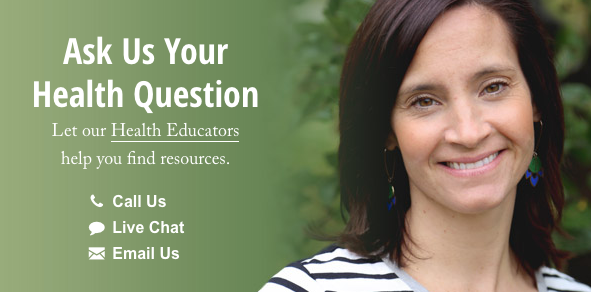 When Live Chat is online, one of the health educators will be available to respond to your question real-time. You simply type it in, the educator will respond and you'll be able communicate back and forth online.
Here's a list of what the health educators can't do:
They can't
diagnose
suggest any sort of treatment plan
give medical advice
What they can do is give you credible information and direct you to other resources for sound, scientifically based information. "We have all kinds of information at our disposal," explains Jean. "We know what to look for — I know about specific websites because I've been searching for health information for years. We know how to guide people and help them identify credible resources."
If you're looking for information but don't feel like communicating with one of the health educators, you might find what you need by browsing the website. To give you an example, I took a screenshot of the section about diabetes.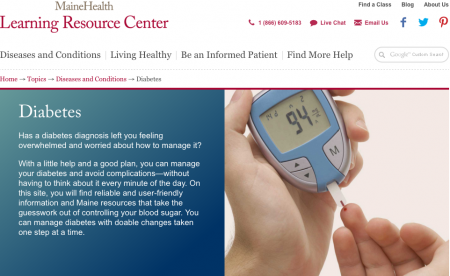 The page also includes links to outside diabetes resources and upcoming classes offered by the center. The website focuses on the top health issues facing Mainers.
Asthma
Cancer
COPD
Diabetes
Heart Health
Mental Health
Obesity
Stroke
Substance Use & Abuse
Tobacco Use
If people want more in-depth health information or a research study, the educators can tap into the Maine Medical Center library. I was impressed by the amount of information Jean was able to provide me and won't hesitate to use her again as a resource. That's exactly what she hopes other people with health questions will do. "We want to make people aware that this is a good local resource for them and that we are accessible. It's a completely free resource and our website is continuing to evolve and grow so that we can provide even more information."
To learn more or have a live chat with a health educator, visit the MaineHealth Learning Resource Center.