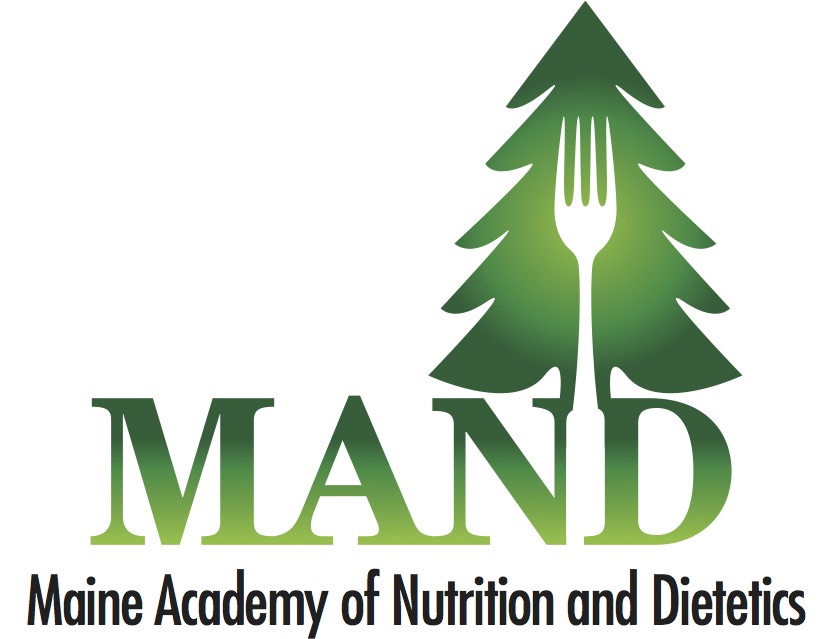 Whenever I have a question related to food and nutrition, one of the first places I go for answers is MAND — the Maine Academy of Nutrition and Dietetics. For instance, someone recently asked me if protein bars were worth the calories and MAND provided the answer.
In this post, MAND is not giving out any advice. Instead, we've got a great pancake recipe and a guest post that explains what the organization is all about.
Nearly every Thursday I share a recipe on the blog. They come from a wide variety of sources — individuals, health-related organizations, local restaurants.
When I decided to ask MAND for a recipe, I reached out to my #1 contact person Kitty Broiher, MS, RD, LD. Kitty is a registered dietitian nutritionist with a master's degree in nutrition communications. She's an active member of MAND and also has a business called NutriComm, Inc.
True to form, Kitty got back to me in an instant.
The results:
A guest post by past president of MAND Dave Seddon, MBA, RD, LD. Dave is a registered dietitian nutritionist and has a business called PeakCore.
A recipe from Patsy Catsos, MS, RDN, LD. Patsy is a registered dietitian nutritionist at Nutrition Works LLC in Portland, Maine. She is also the author of several books, including Flavor without FODMAPs
What is MAND?
By Dave Seddon, MBA, RD, LD
Courtesy of the Maine Academy of Nutrition and Dietetics
MAND members have been contributing nutrition content and comments to this website on and off for the past couple of years and we realized that we never really identified ourselves! Let's remedy that right now — you should know who we are, especially since it's National Nutrition Month!
The Maine Academy of Nutrition and Dietetics (MAND) is comprised of 300+ dietetic nutritionists and dietetic technicians. We serve all regions of Maine and work in a variety of settings, including all types of hospitals, extended care facilities, government and public health departments, community organizations, colleges and universities, athletic facilities, food service companies, school foodservice operations, and private practice offices, among others. We have also become sought-after leaders in the areas of nutrition public policy development, research and community outreach.
What the letters after our names mean
Our members are nutrition professionals, who utilize science-based information in their work. We have completed accredited educational programs, practical, real-world internships and supervised experiences, as well as passed rigorous examinations to earn our credentials. You may see us with the initials RD/LD (Registered and Licensed Dietitian) or RDN (Registered Dietitian Nutritionist) — equivalent credentials — or DTR (Dietetic Technician, Registered).
In addition, here in Maine, we have licensure for RDs and we're the only state that also licenses DTRs (you may see DTR/L to indicate a licensed and registered dietetic technician). Consulting a licensed RD or DTR here in Maine ensures that the expert you're seeing is held to the highest national standards of education, practice, and ethics for clinical nutrition practice.
What we do
Founded in 1947 as an affiliate of the National Academy of Nutrition and Dietetics, MAND members have remained steadfast in their desire to promote the health of our fellow Mainers. Our mission calls for us to "serve the public through the promotion of optimal nutrition, health, and well-being while empowering our members to be leaders in food and nutrition." Some of the ways we serve Maine residents directly include:
Nutrition counseling
Managing chronic diseases, such as diabetes, high blood pressure, or cancer
Advising on food allergies, sensitivities and intolerances
Wellness program management
Nutrition education and research
MAND is also committed to advocating for the public's health through national and state policies affecting:
Disease prevention and treatment, such as weight management and diabetes
Healthy food systems and access, such as food security and food systems management
Lifecycle nutrition, such as child nutrition and older adults
We have testified before the Maine legislature on proposed laws and policies that impact Mainer's nutritional wellbeing, and we welcome opportunities to be involved in actions and efforts that benefit all Mainers' health. In fact, at our annual Legislative Breakfast, MAND now awards one deserving Maine legislator our Public Policy Award to recognize their support and work in areas that impact the nutritional health of Maine citizens.
If you would like to learn more about our organization, please follow the link to the Maine Academy of Nutrition and Dietetics' website.
Blueberry Banana Pancakes
Adapted from Flavor without FODMAPs (Pond Cove Press) by Patsy Catsos, MS, RDN, LD.
These make a special breakfast, served steaming hot! They feature sweetness from wild Maine blueberries and a banana, and taste amazing topped with — you guessed it — a little 100% pure maple syrup. The pancakes can be made lactose-free if lactose-free cottage cheese is used, and gluten-free if certified gluten-free oats are used.
Ingredients
1 cup rolled oats
1 cup cottage cheese
3 large eggs
1 large ripe banana, peeled
1/2 cup wild blueberries
1 tsp butter
Procedure
In the bowl of a blender, combine oats, cottage cheese, eggs, and banana. Process on until smooth. Add a little milk if necessary to achieve a pourable batter. Stir in the blueberries.
Use butter to lightly grease a non-stick griddle or skillet. Heat the skillet over medium-high heat until butter is fragrant. Pour pancake batter onto the hot griddle. Turn with spatula when edges are dry and top is starting to firm up.
Pancakes are done when the middle puffs up and blueberries are juicy and sputtering. Serve warm, with maple syrup.
Makes 7 6-inch pancakes
Tips
Fresh or frozen wild blueberries both work well in this recipe. Ricotta cheese can be used in place of cottage cheese.
 Many thanks to Kitty, Dave, Patsy, and all MAND members who have contributed to Catching Health.