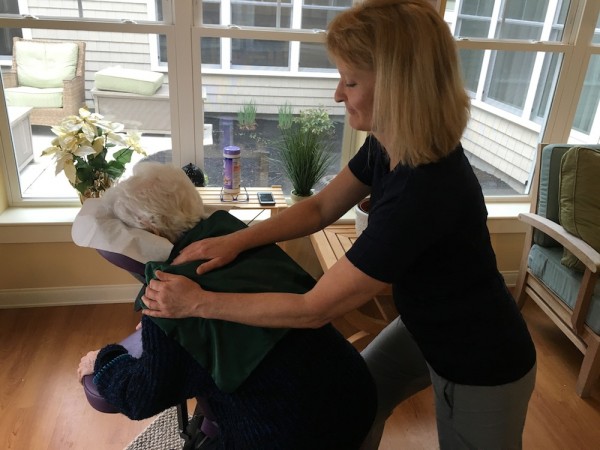 I've long believed that if we could all start each day with a good back and shoulder massage the world would be a more peaceful place. Not only does massage help relieve stress and tension, it's being used more and more as a complement to traditional medical treatments. For example, in some cancer centers, volunteer massage therapists give soothing massages to patients undergoing chemotherapy.
And now, Avita of Stroudwater, the memory care facility that has become home to my mother, offers massage to its residents and their guests. Every other week, massage therapist Beth Mitchell will be setting up her massage chair and making people happy. I didn't hesitate to sign my mother up for a 10-minute massage on the very first day.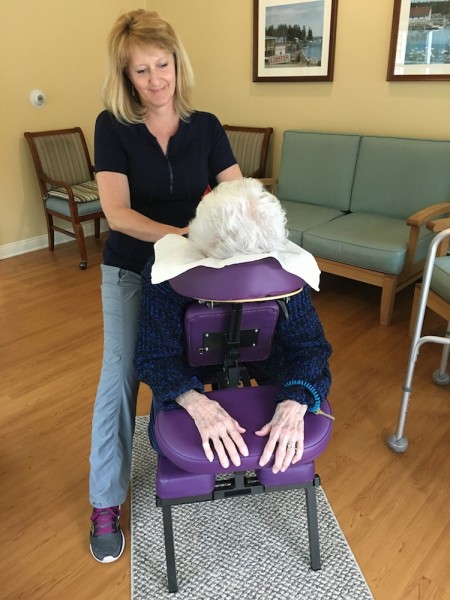 Beth decided to become a massage therapist after a lengthy career in marketing. In a way, she is returning to her passion. She has a bachelor's degree in
kinesiological sciences (simply put, that's the study of how the body moves) and she's a certified personal trainer. Massage therapy is a natural fit, but she thought she'd be working in the sports arena, massaging athletes, not elderly people or people with dementia. It happened by chance.
Beth has a private practice in Portland. A family member of one of the residents at Avita hired her to give massages to residents and staff as a Christmas treat. "I came in for just two hours one Friday afternoon," she says. "I brought some treats and Christmas music — Bing Crosby, Perry Como, Frank Sinatra. Some of the residents sang along while I did massages and some of them just sat and watched. They didn't want to do it at first but then after they saw other people get a massage, they were a little more open to trying it. Most of them were thrilled that they did and talked about how good it felt."
It felt good to Beth as well. She understands dementia. "My dad was in a skilled nursing facility for seven years with dementia so this is very close to home for me," she told me. But still, she was overwhelmed by her first experience at Avita. "That, I think, was the biggest surprise for me," she said. "I left here choked up because it was the most gratifying work I'd ever done. I didn't see it coming. It was like, wow, who knew? The residents were so genuine and so appreciative and people were smiling who hadn't smiled that much recently."
Jess Nwajei, a wellness nurse at Avita, says they decided to bring Beth back every other week because they quickly saw the upside. "We think it's going to be a great benefit for the residents as well as families," she explained. "It releases endorphins and relieves stress, boosts your immune system, increases circulation, helps fight pain, and decreases depression, which often goes hand and hand with dementia. There are so many things massage can offer. It's just a profound benefit in every way."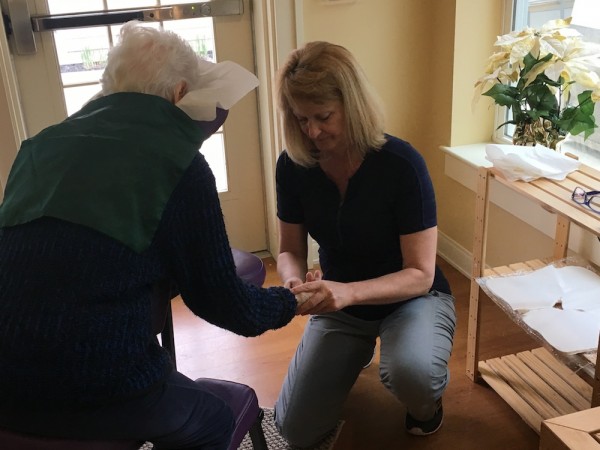 "It's very therapeutic," added Beth. "It's very healing. It's very calming. A lot of times people with dementia start to have difficulties sleeping. It helps reset a lot of their natural biorhythms. And it's the type of thing that a lot of memory care residents no longer have in their life. That conscious touch. We all need it."
Yes, we all need it and that's why guests are also invited to sign up for a massage with Beth. When you love someone with dementia, stress levels can get pretty high. And caregivers are notorious for not taking good care of themselves.
I watched as she moved from my mother's shoulders to her hands, gently stretching them and kneading her palms. "Massage is wonderful for arthritic fingers," she told me. I wondered about the pressure she was using and how it was different from what she might use on someone less frail. "The touch has to be appropriate," she explained. "Each individual has unique needs. You have to adjust. Sometimes it's just less pressure or a different stroke. You have to be very aware. Many of them have osteoporosis or they might be on blood thinners or there might be some other issue. All of those things you have to take into account."
When she was done, my mother looked up and said, "I almost fell asleep. It was comfortable. I enjoyed it."
Because she has dementia, she may not remember, even a few minutes later, that she had a massage. But something I've learned along the way is that it's what happens in the moment that matters. And in the moment, Beth's massage made my mother feel relaxed and nurtured. I'd say she deserves to get one on a regular basis.
This blog post was originally published in the Advantage Home Care blog, which I also write.
Don't miss a thing!