For most of my life, I didn't like beets. Or … I thought I didn't like them. Maybe that's because as a kid I only had them in red flannel hash or out of a can.
A few years ago, my daughter and I were having lunch at Central Provisions in Portland (Maine) and she persuaded me to try the beet and avocado salad. I learned two things: 1. I really like the taste of beets. 2. They're different colors, not just red!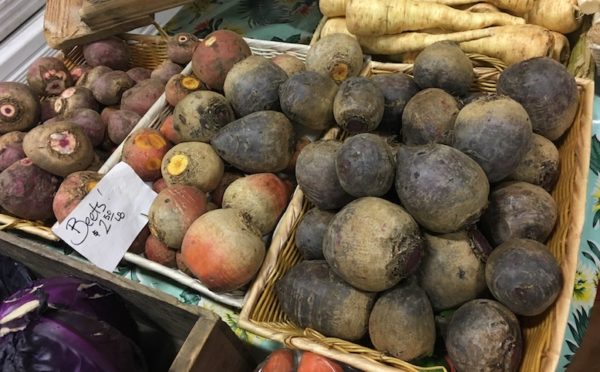 Now, whenever I can I buy multi-colored beets, like these from Goranson Organic Farm at the Winter Farmer's Market in Portland. The winter market is every Saturday until the end of April from 9 to 1 at the Maine Girl's Academy on Stevens Avenue.
Roasted Beets
My favorite thing to do with beets is roast them, either alone or with other vegetables — carrots, potatoes, whatever you want. Here's my method, which is pretty straightforward.
Peel and cut the beets into cubes.
Put into a bowl and toss with a TBS or 2 of olive oil until lightly coated.
Spread out on a baking sheet, making sure none touch.
Sprinkle on a little kosher salt and a lot of fresh rosemary.
Roast for about 45 minutes at 375° F. I usually turn them over at least once.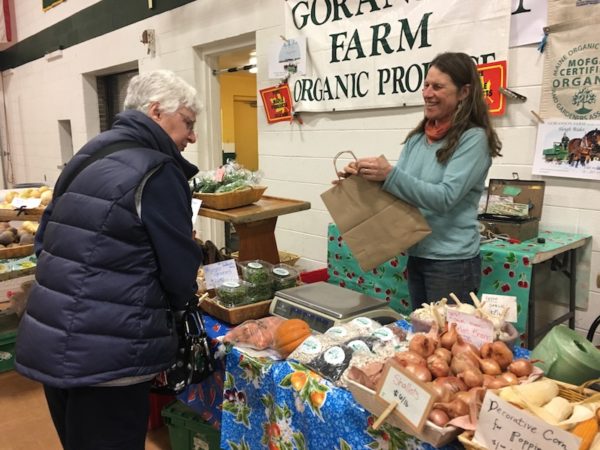 Jan Goranson, whose family owns Goranson Farm (it's in Dresden, Maine), sent me two beet salad recipes. She got them from Deb Madison's cookbook Vegetarian Cooking for Everyone.

Beet Salad with Ricotta Salata and Olives
Serves 4 to 6
Ingredients
• 1 1/2 to 2 pounds beets, steamed or roasted and peeled
• 1 small garlic clove
• Salt
• 2 tsp fresh lemon juice, to taste
• 2 TBS extra virgin olive oil
• 2 handfuls arugula
• 4 ounces ricotta salata, thinly sliced (ricotta cheese that has been pressed, salted, and dried.)
• 8 Kalamata olives
Instructions
1. Cut the beets into wedges or large dice, keeping different colors separate.
2. Pound the garlic with ¼ tsp salt in a mortar until smooth, then whisk in the lemon juice and olive oil. The dressing should be a little on the tart side.
3. Toss the beets in enough dressing to coat lightly.
4. Arrange them on a platter and garnish with arugula.
5. Just before serving, tuck the cheese and olives among the greens. If any dressing remains, spoon it over the cheese.
Roasted Beets with Anise Vinaigrette
Ingredients
1 ½ pounds beets
Olive oil
Salt and freshly milled pepper
1 tsp anise seeds
1 garlic clove
2 tsp sherry vinegar
2 RBS extra virgin olive oil
Instructions
Preheat the oven to 375° F.
Peel the beets and cut them into ½-inch dice.
Toss in enough olive oil to coat lightly and season with salt and pepper.
Spread the beets on a sheet — make sure they have plenty of room so they don't just steam — and bake until the juices begin to caramelize and the beets are tender but firm, about 25 minutes.
In a mortar, crush the anise seeds with the garlic and a little salt.
Whisk in the vinegar and the extra virgin olive oil.
Pour the vinaigrette over the beets and marinate for several hours or overnight.

Balsamic Roasted Beet Salad
And here's a beet salad I made last night. I found the original recipe in the Barefoot Contessa's cookbook Foolproof. I had to make a few changes based on the ingredients I had on hand.
Ingredients
8 medium-size beets, tops removed and scrubbed
½ cup balsamic vinegar
½ cup good olive oil
2 tsp Dijon mustard, such as Grey Poupon
Kosher salt and freshly ground black pepper
4 ounces baby arugula ( I used spring mix salad greens)
1/3 cup roasted, salted Marcona almonds, toasted) I didn't use any because my husband doesn't like nuts on salads, but I might have sprinkled on some walnuts)
4 ounces soft goat cheese, crumbled
Instructions
Preheat oven to 400 ° F.
Wrap the beets individually in aluminum foil and place them on a sheet pan.
Roast them for 50 minutes to 1 hour, depending on their size, until a small sharp knife inserted in the middle indicates that they are tender.
Unwrap each beet and set aside for 10 minutes, until cool enough to handle.
Peel the beets with a small, sharp knife over a piece of parchment paper to prevent staining your cutting board.
Whisk together the vinegar, olive oil, mustard, 2 tsp salt and 1 tsp pepper and set aside.
While the beets are still warm, cut each one in half and then each half into 4 to 6 wedges and place them in a large mixing bowl.
As you're cutting the beets, toss them with half of the vinaigrette (warm beets absorb more vinaigrette), 1 tsp salt and ¼ tsp pepper. Taste for seasonings.
Place the arugula (spring mix) in a separate bowl and toss it with enough vinaigrette to moisten.
Put the greens on a serving platter and then arrange the beets, nuts, and goat cheese on top.
Drizzle with additional vinaigrette.
If desired, sprinkle with more salt and pepper and serve warm or at room temperature.
A word of caution when you're working with red beets — they will stain everything!