On September 27, David Emery celebrated his 56th wedding anniversary without his beloved wife Judy — a sad, but joyful day. It may be hard for some people to understand how there can be joy when you are mourning the loss of someone you love deeply. David's joy comes from the wonderful memories of a long and fulfilling marriage and also from the firm belief that he and Judy will be together again some day.
His belief, which was shared by his wife, is rooted in a deep spirituality. "We were very blessed," he says, "because it had been the fiber of our souls. Spirituality made it possible for us to celebrate. I'm lonely as all get out, but when you get down to brass tacks, it's just a passage. Life is only that — it's a beautiful privilege. The day before she died, she told me she was going to save a place for me. It will be mine one day. It's another link in the passage."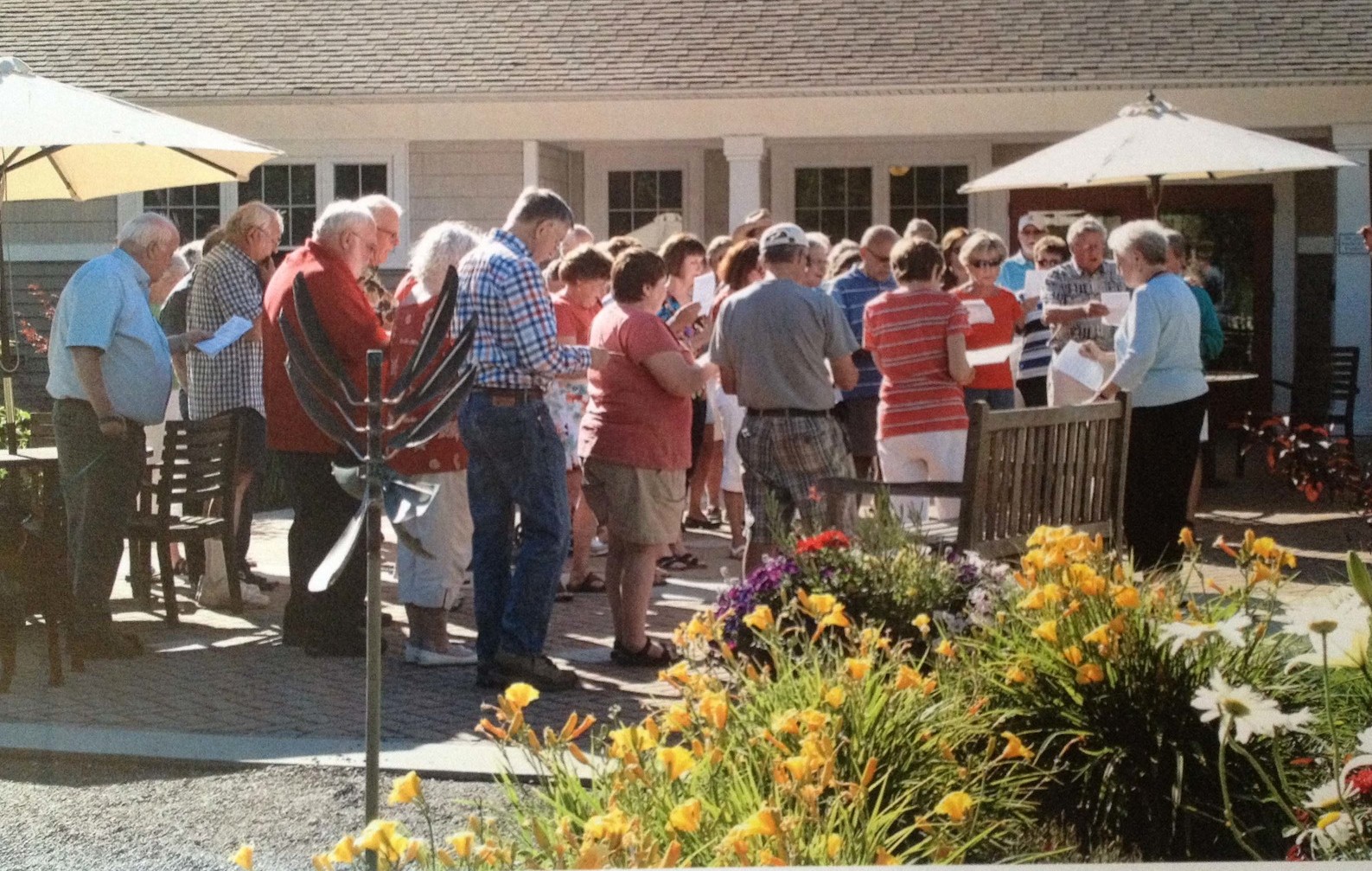 Judy died at Gosnell Memorial Hospice House July 11. She was surrounded by family,  friends and members of their church. A highlight of her stay at Gosnell — yes, a highlight — was the day their church choir came to sing. "Our church just decided, 'Why don't we go and sing for Judy at Gosnell,'" David explained. "Certainly, no fewer than 55 people showed up out there on the patio. Judy could hear them. The kids stayed inside with her and I went outside and sang with the choir. We sang and we sang and we sang, and we sang raucous music. It was very special."
Judy and David were fortunate because Gosnell House could accommodate the choir, as well as their spiritual needs. Sometimes such requests don't seem practical or are not even understood. You need to hear what's beyond the request and try to understand what's really important, says Chaplain Larry Greer. Larry is Pastoral Coordinator at Hospice of Southern Maine, which runs Gosnell House. "Choir not possible? How about a CD instead?" he suggests.
Helping people — from health care professionals to patients to family members — engage in conversations about death and dying is what Larry does. When it comes to providing spiritual care, even if you're not a religious person, he says it's not that hard to do. Begin by listening. "It's not so much what I say," he explains, "it's my willingness to be there and listen and sit through the story, whether it be a joyful story or, sometimes they're not so joyful. Being compassionate, contemplative in their care, having the ability to sit with a person in their suffering is good spiritual care. You don't have to offer any advice. It's about being present, it's about being with the person."
Larry also organizes the Anne Hunter Memorial Thresholds Conference for Hospice of Southern Maine. This year, the guest speaker will be Dr. Christina Puchalski, a professor at George Washington University. Dr. Puchalski created the George Washington Institute for Spirituality and Health. She's considered a pioneer and internationally recognized leader in the movement to integrate spirituality into healthcare. "Not just end of life care," says Larry, "but all of life. At the University she helps new clinicians understand that the spiritual side of us is as important as the physical side."
The Thresholds Conference is an annual event that began five years ago. The goal is to bring together health care providers, clergy, faith leaders, caregivers, students and community members and to create new conversations about end of life care and, says, Larry, "To help move us into a better acceptance of death and dying."
David and Judy weren't afraid to talk about death. On the day she told him she'd save a place for him, she said he should wear his green sailing shirt. A few minutes later she said he could wear his blue one if he wanted and then, David told me, "She said, 'Why don't you just come as you are.'"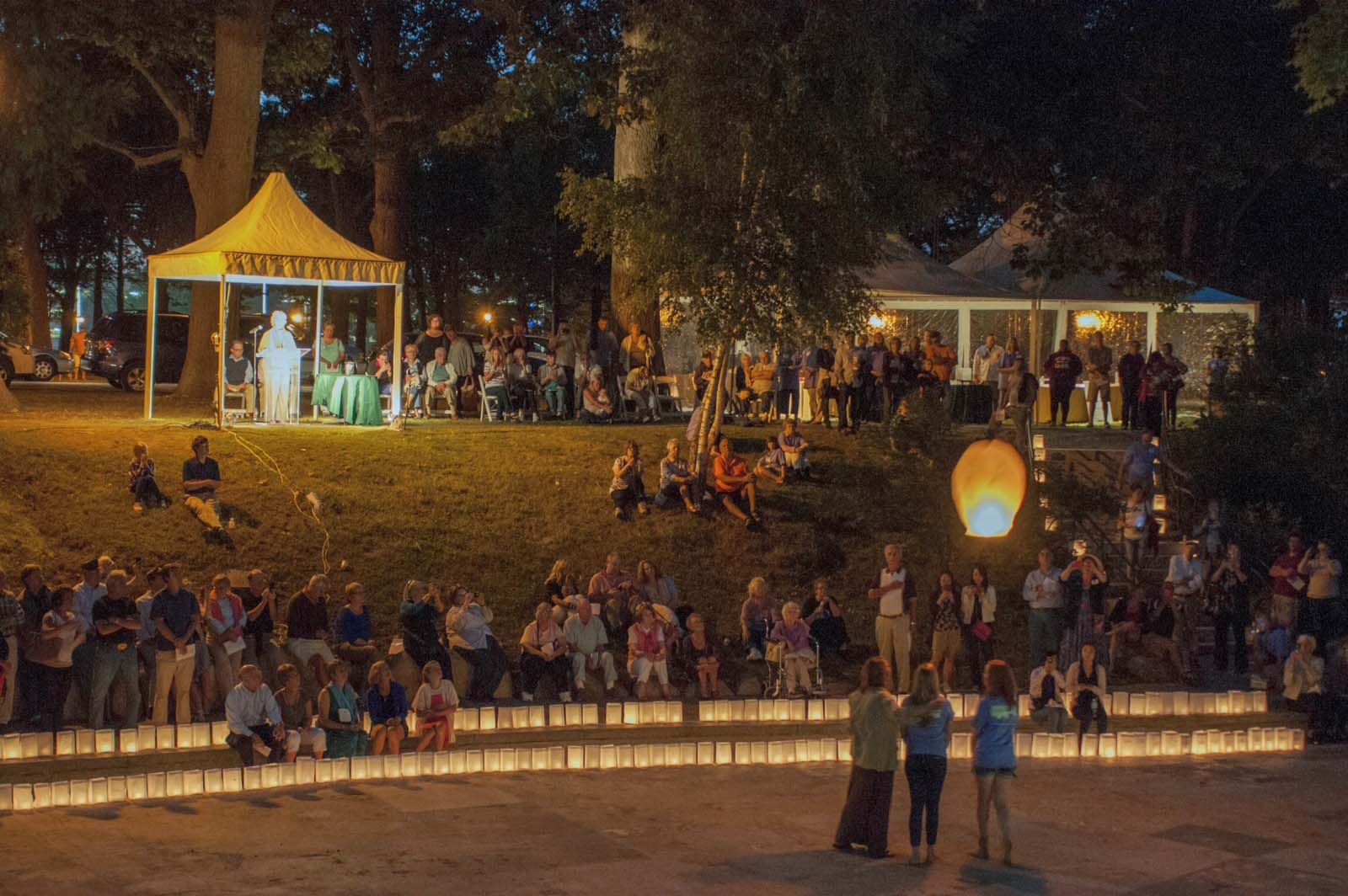 On September 27, 2014 David celebrated their 56th wedding anniversary with maybe as many as 1000 other people at Deering Oaks Park in Portland. The event was Twilight in the Park, another annual event sponsored by Hospice of Southern Maine. Several hundred people carried luminaria marked with the name of someone they loved who had died. "It was a wonderful party," says David. "When you look at the luminaries around the pond — it got dark at night — and see the people sitting on the hillside — it was a time of celebration and quiet remembering. We all shared in an interesting way. It was so very special. It's how I'll celebrate every anniversary from now on."