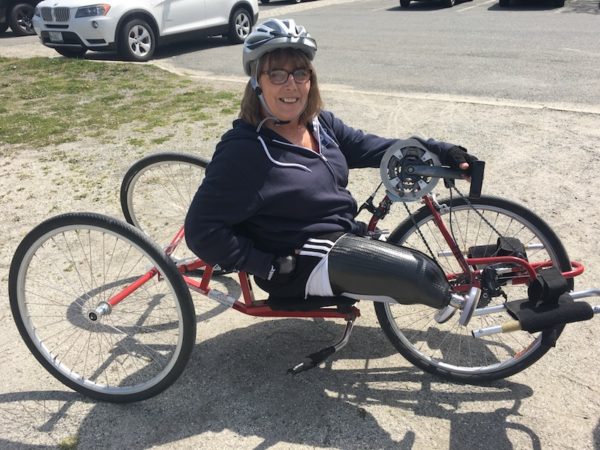 December 13, 2017, Terri Anthoine pulled into the parking lot of a Portland, Maine dry cleaners to do a quick errand. She got out and walked around to her trunk. In an instant, the SUV parked behind her car sped forward and hit her, completely severing both of her legs above the knees. The elderly man behind the wheel had meant to step on the brake, not the accelerator.
Five months later, I met Terri at an adaptive cycling clinic sponsored by Hanger Clinic, Maine Medical Partners, and Maine Adaptive Sports and Recreation. She was wearing a pair of short prostheses known as stubbies and walking around checking out the different bikes on display.
Maine Adaptive brought out its entire fleet of cycles for people to try at the clinic, which was held on Back Cove in Portland. "They could get out and test different bikes that might be a fit for their prosthetics and how things might work to make it possible for them to ride," explained staff member Deb Maxfield. "We have hand cycles and all kinds of recumbent bikes — some with foot pedals, some hand powered, some balanced by other people. If somebody needed some direction or assistance peddling, we could attach two bikes together, almost tandem style."
"A bike represents so much independence," Terri told me. "I want one. I want a bike right now." She's already pretty independent at home. She has a wheelchair but is slowly getting rid of it, preferring to walk on the stubbies. In about a week she's going to try a new pair that will make her four inches taller. Eventually, she hopes to get computerized C-legs, which have microprocessor-controlled knee joints.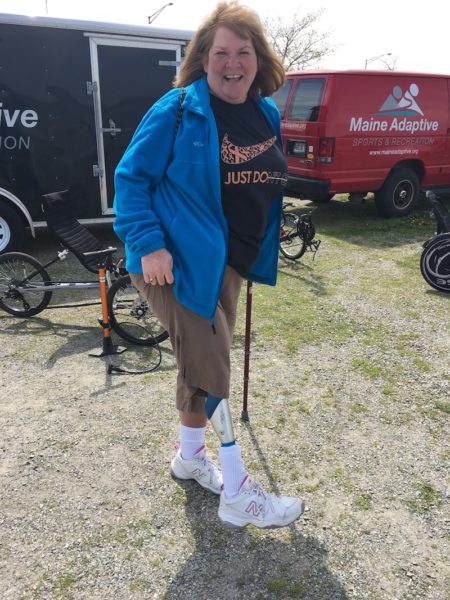 Kim Ashby wears a C-leg. Her right leg was amputated 25 years ago because of a blood clot. For many years, she wore a prosthesis that didn't have a knee joint and experienced a lot of falls. Having one with a knee opened up a whole new world for her. She was itching to go for a bike ride.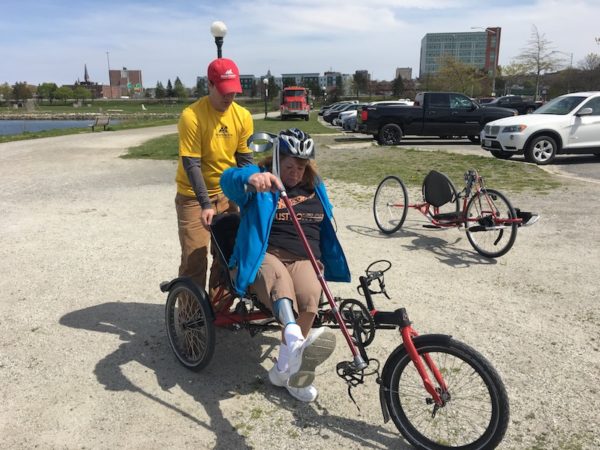 "Before I lost my leg, I used to ride my bike everywhere," she said. "After losing it, I just went into this shell that was so hard to get out of. I picked up hobbies, but they were all sitting down. I wanted to get out and do something."
Kim not only went to the clinic and picked out a favorite bike, she also signed up for Maine Adaptive's summer bike riding program. Precisely what everyone was hoping might happen.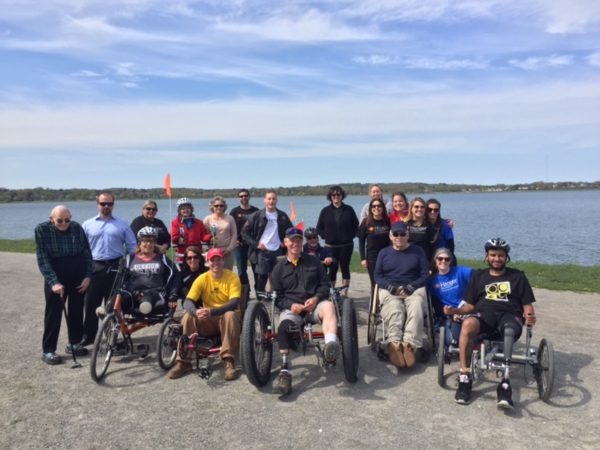 "Today was a definite success," said Hanger Clinic manager Shelley Coull. "Success to me is that after participating in today's event, an individual might think a little bit differently about their mobility and about their opportunities to engage in a healthy and fun activity. Perhaps they made a connection with another amputee or someone with a different disability and felt supported and plan to come back to Maine Adaptive for this or another sport!"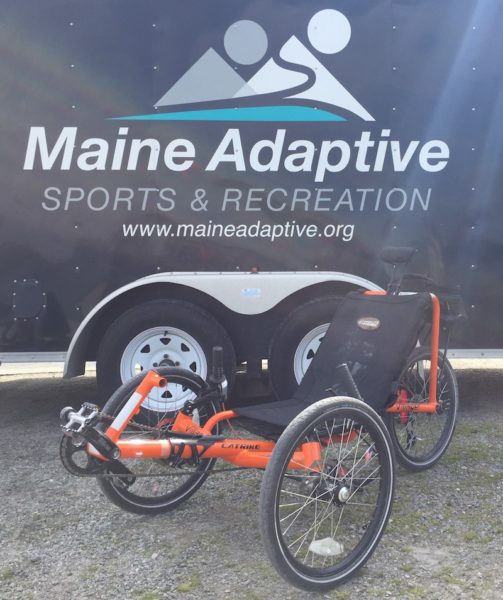 This orange cycle is called a Catrike. "A rock-solid foot-powered recumbent trike that is fun to ride and a breeze to pedal," said Brandon Merry, a Maine Adaptive staff member.
Here are some of the other bikes people tried: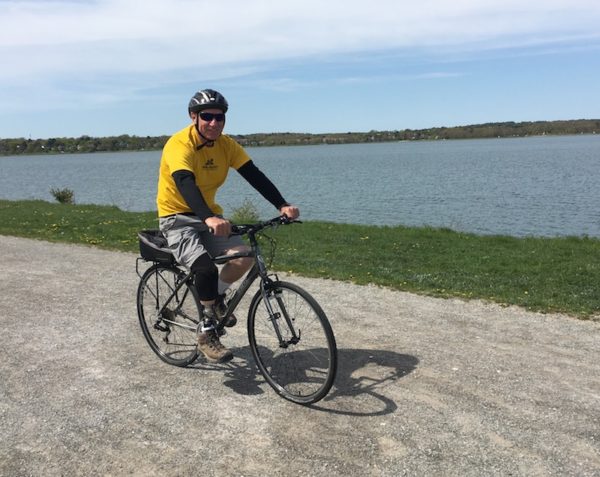 Peter Sargent, who has been a volunteer with Maine Adaptive for 26 years, helped many of the people at the clinic take their test rides. He lost his right leg in combat in Viet Nam. Today there's probably not a sport that he won't try and he loves encouraging other amputees to just get out and find something they enjoy doing. That wasn't the case in the beginning.
"I had to be drawn out of the woodwork," he explained. "I kind of isolated myself and hid away a bit. It took me awhile, but when I decided to learn how to ski through Maine Adaptive (then called Maine Handicapped Skiing), the first day out I knew it was what I wanted to do. I wanted to get out and do stuff. There was no more hiding away."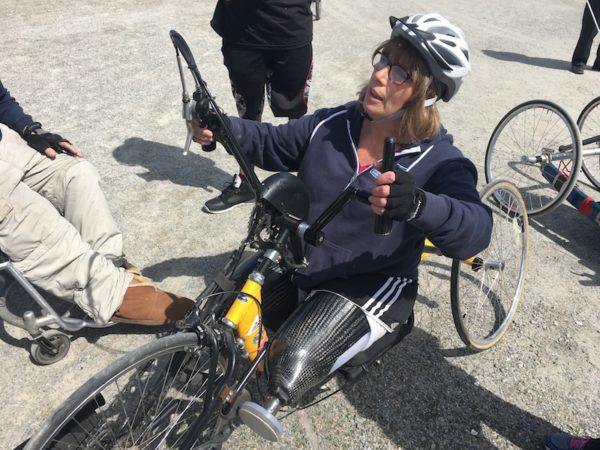 Terri knew from the get-go that she would not allow herself to "curl up in a ball." She said she was motivated by her family and friends. "I had to be strong for them because if I wasn't, they wouldn't have been. So they all turned into strong people, too."
Her life changed dramatically in a matter of seconds. What she learned is that you can't give up. You just have to "rise up and conquer". The picture above captures her conquering the hand controls on a bike she's about to take for a spin.
The cycle clinic was "a day of building skills, confidence, and friendships," said Deb. More than 20 people stopped by to try the bikes. Trying is what it was all about, said Peter. "You've got to find out what you can do rather than thinking about what you can't do."