An 80-piece jigsaw puzzle. No problem for a 9-year-old. Bit of a challenge for an 86-year-old with Alzheimer's.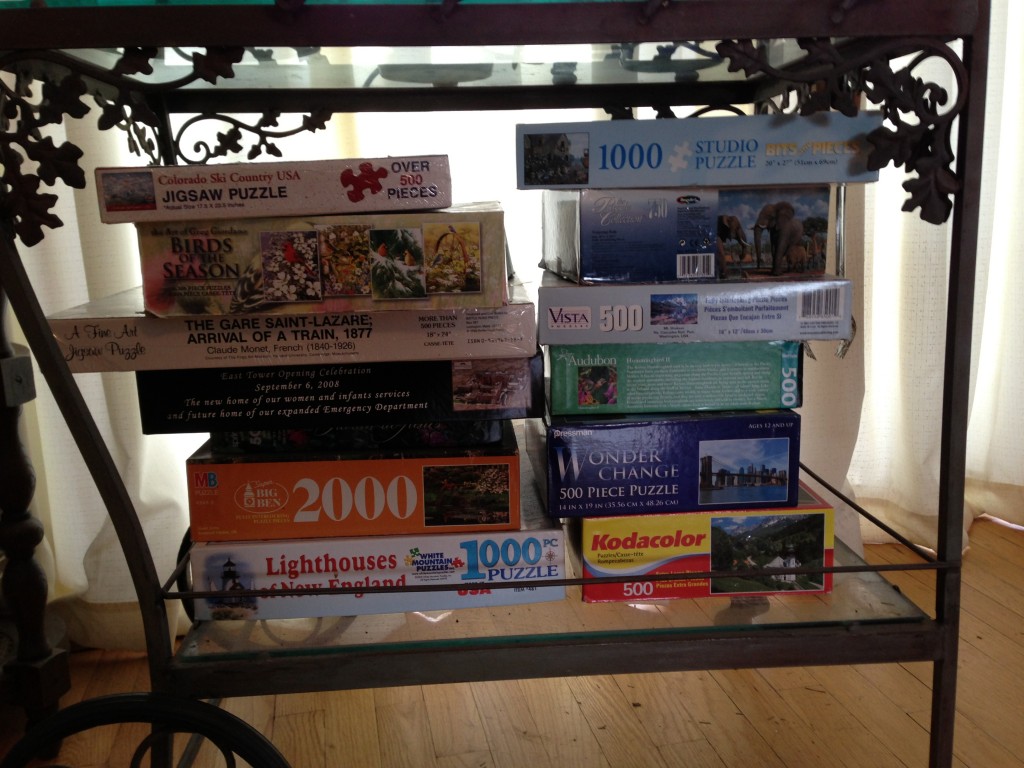 My mother loves puzzles. The lower shelf of her plant stand is filled with ones she bought just over the past year at yard sales and second hand stores. Boxes brimming with intricate, tiny pieces — 500, 1000, 2000. As soon as she got home, she'd sit down at her card table and, following the simple strategy she had perfected decades ago, began separating the edge pieces. She would start with gusto and intense concentration, but I think she only managed to finish one of the smaller ones, and not without some help. Before long, it wasn't doing the puzzles that brought her pleasure anymore, it was finding ones that she liked and adding them to her growing collection.
This week I brought her an armload of lively colored Ravensburger puzzles that I bought for my daughters when they were little and can't bear to give away. I put them on the couch beside her chair, set up a TV tray in front of her, and left the room for a few minutes. When I returned she had the cover of an 80-piece puzzle in her hand. When I looked inside, I was astonished to see that she had already separated the edge pieces. "Wow, Mom, you're fast," I said to her. "You pulled out all the edge pieces."
"Well, they have the same pattern," she answered. "See, they're all black and white."
When I asked if she wanted to start putting together the border, the puzzle I saw was in her eyes. She was confused and didn't seem to know what to do next, so I reached into the box and asked if she minded if I gave it a try. One by one I lay out the pieces, not in order, but just to show her that they all had straight edges. Slowly, her puzzle expertise began to kick in.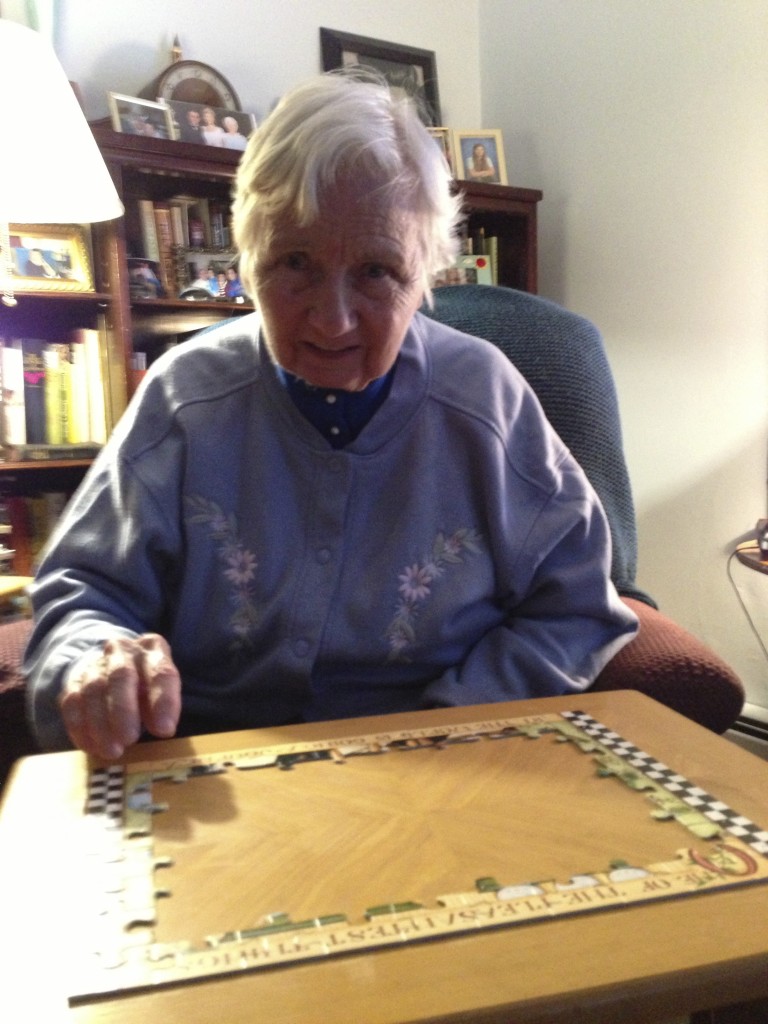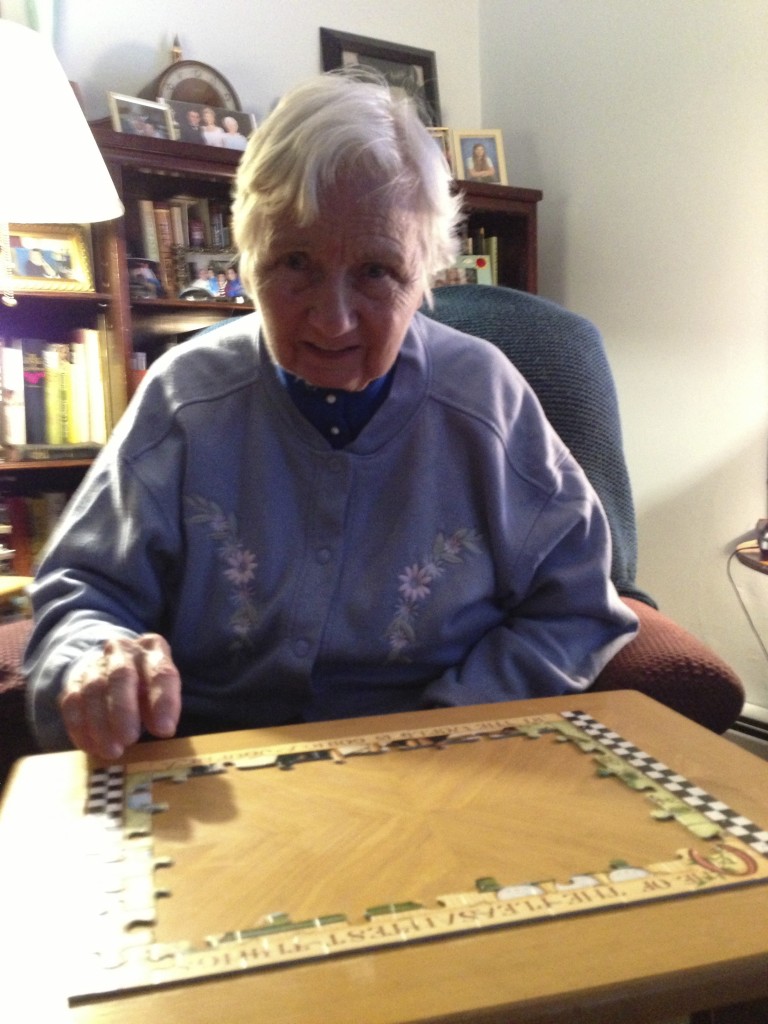 I held up the cover so she could scrutinize the border. With only a little suggestion now and then, she was able to fit each piece neatly into its proper place. As she worked, she began to tell me about the night before I was born. My father was in the Army, stationed in Augsburg, Germany. He shipped out shortly after they were married and she was allowed to join him a few months later. A month after she arrived, she became pregnant with me. Nine months and eight days later she and my dad sat on the floor of their apartment doing a jigsaw puzzle together. "I sat with my back up against the wall," she described to me. "I remember it like it was yesterday. The next morning I woke up and was in labor. Your father called for an ambulance and we headed for the hospital in Munich. He was a wreck."
She reached into the box and pulled out a puzzle piece with yellow stripes on it and studied the picture. She could tell that it was a piece of the striped wallpaper next to a green doorframe. What stopped her cold was that in the picture the stripes were vertical, but on the piece in her hand they were horizontal. She didn't know what to do.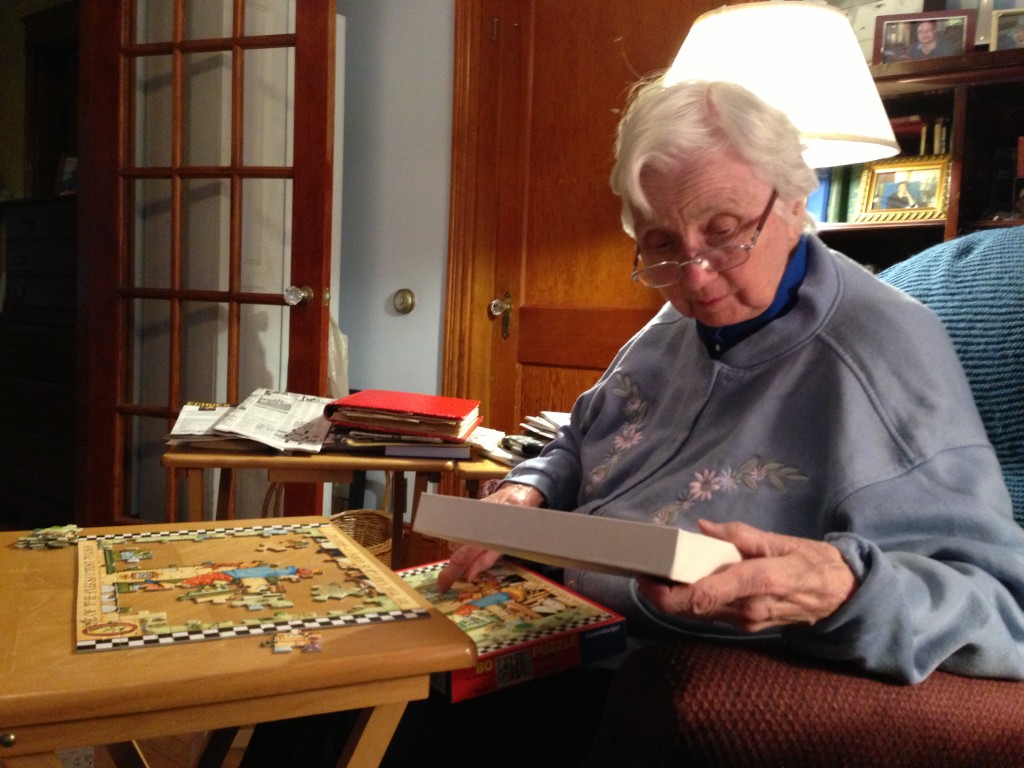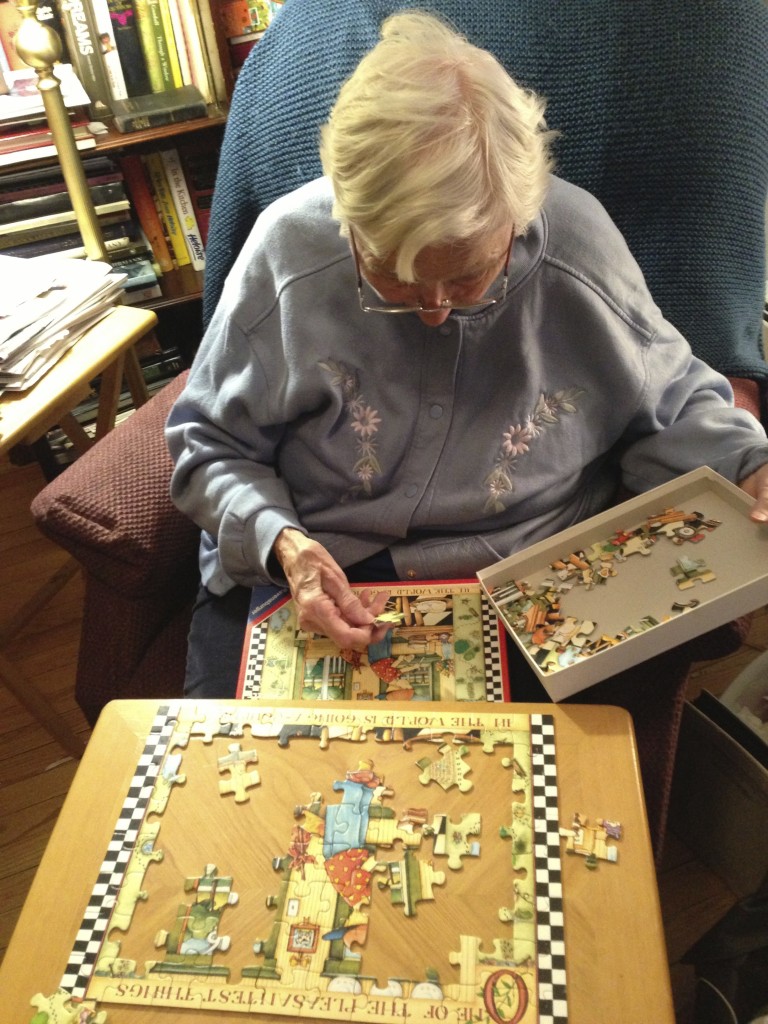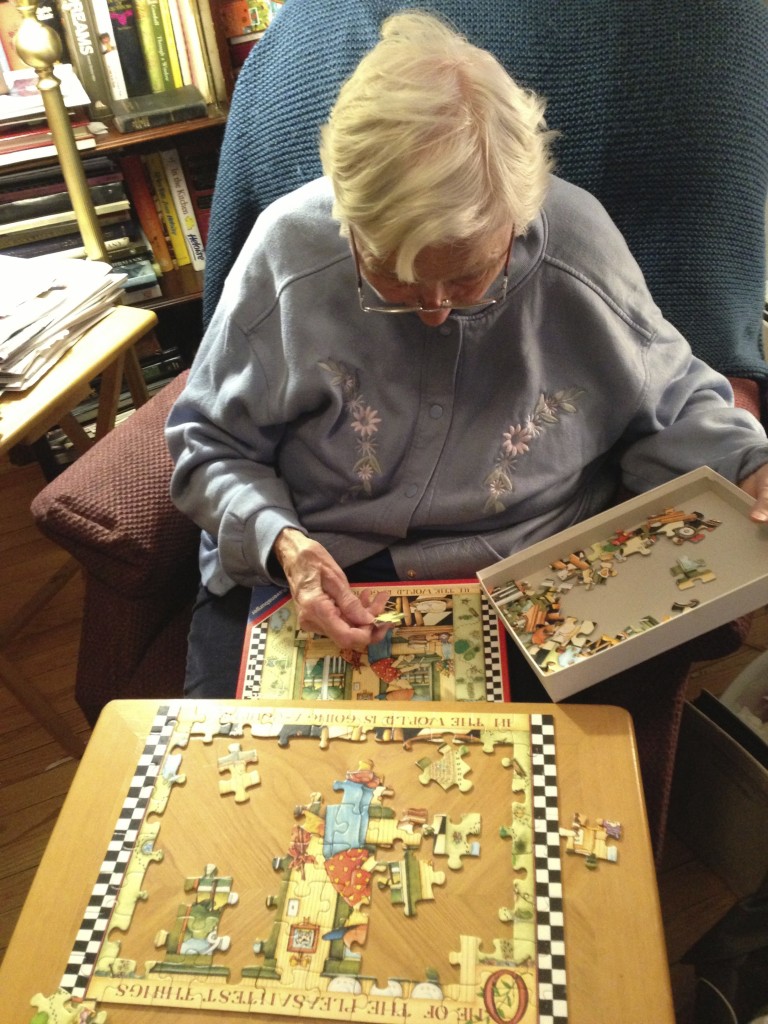 Next came the last piece of blue that would finish the little boy's pants. She sat motionless, the piece pinched between her thumb and index finger, hovering over the empty spot in the pants where it belonged. She only needed to turn it once to make it fit, but all she could do was stare at it. She looked up at me and declared, "I can't get my brain organized to put the pieces where they belong."
I suggested that she turn the piece around and, in an instant, she positioned it into place and said, "I saw the blue of his pants, but I couldn't put it in."
And once again, I saw the wrath of Alzheimer's disease and I couldn't make sense of it. One moment her memory and cognitive skills seem crystal clear and the next, like a final piece of a puzzle that has mysteriously disappeared, they are gone.
She plods along and little by little finishes the puzzle. She didn't make record time, but she made good time. "I enjoyed it. It was fun," she said, smiling. "I haven't done a puzzle for a while."
But it was a child's puzzle. Something that wasn't lost on her. "Parts of it were challenging," she admitted. "Sometimes I can do things, and sometimes my brain is just plain sleeping."
My mother's sometimes sleeping brain could describe in detail what she was doing the night before I was born. Sitting on the floor with my father, back up against the wall, doing a jigsaw puzzle. It doesn't matter that she now struggles with just 80 pieces. She was able to hand me a piece of my own puzzle. She has no idea what a treasured memory she has given me.
[/fusion_builder_column][/fusion_builder_row][/fusion_builder_container]