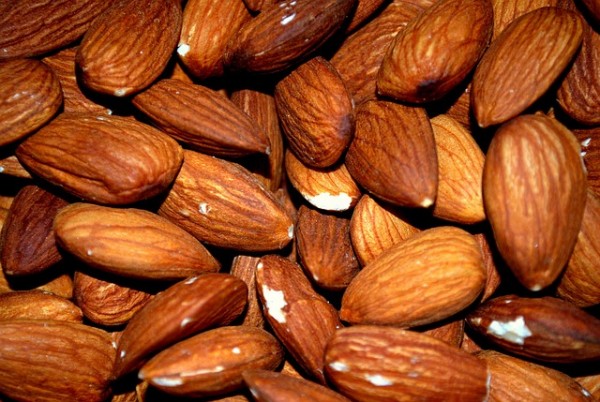 Have you ever noticed how many ways you can enjoy almonds? Individual pieces, raw or toasted. Flakes or slivers. Almond flour. Almond oil. Almond milk. Almond butter. What can you add to the list?
No matter how they are presented to me, I like the taste of almonds and I like that they're good for me. In moderation.
All nuts are nutrient-packed nuggets. They boast protein, healthy fats, fiber and a slew of vitamins and minerals. Compared nut-against-nut, almonds shine as the tree nut that's highest in protein, fiber, calcium, vitamin E, riboflavin and niacin. So go ahead and get a little nutty — just keep the portion in control. A 1-1 ½-ounce portion of nuts is the recommended portion (like all nuts, they are calorie-dense). It's best to weigh them out, but if you don't have a food scale, you can get close by counting out 23 almonds.

Kitty Broihier, Registered Dietitian
Recipe for almond biscotti
I found a recipe for almond biscotti in our Moosewood Restaurant New Classics cookbook. I think we should give it a try!
These biscotti are easily made and one of our favorites. Although a departure from traditional biscotti ingredients, butter creates a softer texture and deeper flavor, and the orange zest is a nice counterpoint to the nuts.

Moosewood Restaurant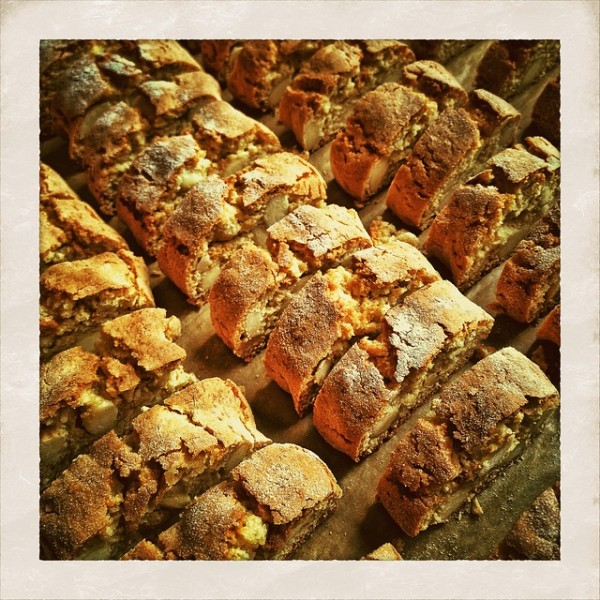 Ingredients
1/4 cup butter, at room temperature
3/4 cup sugar
2 eggs
1 teaspoon pure vanilla extract
1/2 teaspoon pure almond extract
2 tsp freshly grated orange peel
1/2 cup toasted and coarsely chopped almonds *
2 1/4 cups all-purpose flour
1 1/2 tsp baking powder
1/8 tsp ground nutmeg
1/4 tsp salt
Instructions
Preheat the oven to 350 degrees.
Lightly oil a baking sheet.
In a small bowl, using an electric mixer or a whisk, cream together the butter and sugar until light. Add the eggs, vanilla, almond extract, and grated orange peel and mix well.
Fold in the almonds.
In a mixing bowl, sift together the flour, baking powder, nutmeg, and salt.
With a rubber spatula, fold in the wet ingredients until the dough is uniform and holds together when pressed with lightly floured hands.
Use the spatula and your floured hands to scoop the dough onto the oiled baking sheet.
Form the dough into a 12-inch by 3-inch diameter log shape.
Press down on the log, flattening it to a thickness of about one inch. The length and width of the flattened log should be about 14 x 4 inches.
Bake on the top rack of the oven for about 20 minutes, until the dough is firm and just slightly brown.
Remove from the oven and transfer the log to a cutting board.
When cool enough to handle, slice crosswise into 3/4-inch slices.
Lay each biscotti cut side up on the baking sheet.
Bake for about 5 minutes on each side, using tongs to flip them.
Cool on a rack.
When completely cool, store in an airtight container. Biscotti will easily keep for a couple of weeks.
Serve with your favorite hot beverage.
Serving size: 1.25-ounce 
Calories: 127 
Fat: 4.8 g 
Saturated fat: 1.8 g 
Carbohydrates: 18.3 g 
Sodium: 85.4 mg 
Fiber: .8 g 
Protein: 2.8 g 
Cholesterol: 32.6 mg
Notes* Toast almonds in a single layer on an unoiled baking tray at 350 degrees for 5 to 10 minutes, until fragrant and golden brown.