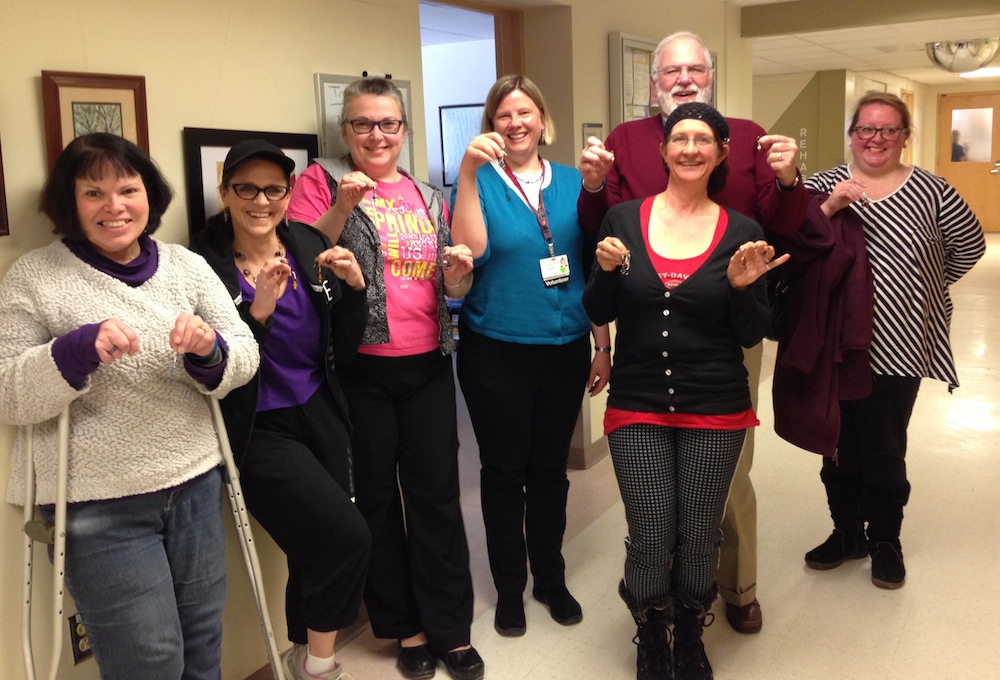 A split second. That's all it took for life to change for every single person in this picture. Carole Starr, for instance. She's smack dab in the middle, wearing a blue top. Carole suffered a traumatic brain injury when she was in a car accident 15 years ago. At the time, she was a teacher and a classical musician, but after her accident, Carole's life revolved solely around healing — her body and her brain.
In an article she wrote for the magazine TBI Hope & Inspiration, she tells about coming across her professional portfolio, which documented all the things she used to be able to do. "Reading the portfolio triggered the overwhelming grief I felt about my lost life," she wrote. "At the time, it proved to me all the harsh judgments I then believed about myself — that I was inadequate, a failure, a cracked version of my former self who would never again achieve anything worthwhile."
After about a month of beating up on herself, Carole had an epiphany. She and her counselor had been working on a "thought stopping" technique that involved testing the truthfulness of her thoughts. One day, she looked at the portfolio and asked herself, "Is it true that I no longer have any accomplishments?"
And the truth was NO! "I had written a few poems, one of which had been published on a brain injury website. I had discovered a new, great satisfaction in using my hands to make crafts. I'd volunteered for about 30 minutes a week at an organization where I used to work."
Carole started a new portfolio. She called it the "Stuff I'm Proud of" folder. "Over time," she says, "I added to it — more writing, pictures of crafts I'd made, events I'd attended, speeches I'd given — anything large or small that I was proud of and/or represented progress in my recovery. Eventually, that folder bulged with accomplishments."
Several years ago, Carole co-founded Brain Injury Voices, an extremely active volunteer group of brain injury survivors who use their "knowledge and experiences to pay it forward." Members belong to the brain injury support group at New England Rehabilitation Hospital of Portland.
Making crafts and being good at it has played an important role in Carole's recovery. While some people may jump to the conclusion that if you've had a head injury, maybe crafts is all you can do, nothing could be farther from the truth for Carole. "It translates into decision-making," she explains, "which is really difficult after a brain injury. It also helped me rebuild my attention and concentration skills. When I first started I had 15 minutes of attention and would be so tired I had to nap for an hour. Gradually, I built up more and more concentration."
Ever the teacher, Carole is sharing her crafting know-how with several people who belong to the brain injury support group.
Ted Brackett, for instance, who made beautiful earrings for his daughter and granddaughter. (And yes, he felt quite privileged to be the only man in the group!)
"Making decisions is hard," he says, "so many things spinning around in your head sometimes. This settled me down, got me concentrating on doing one thing. It stopped the swirling in my head."
Ted was a special ed teacher with more than one Master's degree. A fall from a ladder brought his career to an abrupt end. But like Carole, he has also found a way to continue teaching. "I come here to visit with patients and talk with them about brain injury and what to do when they get home. I also go out and talk to groups. The big turnaround for me was that I was back teaching — still using my skills and love of teaching."
Interestingly, there was at least one more teacher at the table. Chrissie Libby (in the pink shirt) had reached "highly qualified teaching status" and taught on Peaks Island. No more. Ever since an intercom system fell off the wall at her school and landed on her head, she's struggles with decision-making and processing and retaining information — even something as simple as planning dinner or making a pair of earrings can be a challenge.
Everyone in the support group understands. "They have great strategies and are so kind in sharing them," she says. "I really miss my students and I miss what I did. It's hard to think about. This is about finding something you like and can be proud of. It's about moving on."
Working alongside Chrissie was Lisa Nappi — they became friends after attending a mindfulness group at NE Rehab. "Until then, everything was total chaos," says Lisa. "I had to sleep or take breaks all the time. It would take me three or four days to clean one room in my house because I'd be so tired or would get headaches. Visually, I had so much going on at once, I'd just want to stand in a room and scream."
Lisa was one of four female UPS drivers in Maine — a fast paced, fun amazing job that ended when she slipped on a set of wet steps at work and flew through the air, landing on her forehead.
One woman in the room did not fall — was not in a car accident. At the age of six months, Debbie Salvadore had a massive stroke. She's been dealing with the after effects for more than 60 years. For instance, she doesn't have much use of her right hand. "I almost didn't come," she told the group (with a huge smile!) "I didn't think I could do it and I did it. I made two pairs and I'm very overwhelmed that I could do it. I'm thrilled. It's another success for me."
[Tweet "Redefining success after a brain injury"]
Success. How do you define success? The definition is obviously changing for all of these individuals. It doesn't happen overnight. Coming to terms with a brain injury is not easy and it doesn't help that other people, even friends and family members, often think that because they don't look injured, they must be fine.
It may be difficult for most of us to understand, but the group was exhausted after making their earrings. Extreme fatigue is a classic problem associated with a brain injury and it's frustrating when someone asks, "Why are you so tired? You didn't do all that much."
And so, Carole, taught them more than how to make beautiful earrings. She taught them a lesson in letting go of what other people think.
"The more I focused on me and my process, the less I cared what other people said. At first I thought I had to prevent them from saying stupid things to me like, 'You look great, when will you be all better?' Those things hurt so much at first and I don't care anymore. I'm ok with myself. Doing crafts was really instrumental in figuring that all out. It was a process."
If you would like to gain a better understanding of brain injuries, in the addition to the brain injury support group – NE Rehab also offers support groups for families and friends. To get more information, call the Outpatient Center at (207)662-8377.