When the Americans with Disabilities Act was signed into law 25 years ago, a woman from Maine was there to bear witness to the historic event. She even had a front-row seat. That's because Kathy McInnis Misenor, who is now 56, was one of the bill's authors.
In an interview Kathy recorded two years ago for Oral History and Folklife Research Inc, she recalls being there with her co-authors and her mother. At one point, she says her mother told her to take a breath and look at the dream "She said, 'You went from early 20s rabble-rouser types to leaders of a movement that has changed this nation and will change this world.' And there we were stupidly crying like babies."
Kathy's personal story
Some people back in Maine did see Kathy as a rabble-rouser. She wasn't afraid of a fight, something she learned at the age of six when she was diagnosed with juvenile rheumatoid arthritis. It happens when the body's immune system attacks its own cells and tissues and it causes persistent joint pain, swelling, and stiffness. "I walked for a while," says Kathy, "then at about 10 I had crutches, canes, stuff like that. By my early teens, I was in a wheelchair. I remember being non-disabled, but I've been disabled an incredibly long time now."
Shy as a kid, as she got older, Kathy took an active stand on several issues — from women's issues to animal rights. "My great grandfather was a political Irishman," she says, "and my great aunts and uncles were involved in democratic politics. My sister Connie was involved in various young democrat campaigns. She worked for Senator Hathaway with Angus King and my mother and father always volunteered, so it was in the blood!"
Her mother fought for her to go to high school. The first year there was no law that gave her, a disabled student, the right to attend and the school was also inaccessible, so Kathy had to be carried up and down the stairs. She graduated in 1977.
City Council seat
Three years later, in 1980, Kathy decided to run for city council in her hometown of Saco and won. From her oral history interview: "There were several councilors that were just outrageous, calling me mentally unstable, mentally retarded. 'She shouldn't have run if she couldn't get into the building. It's not a place for them.' But I did win. They did have to renovate a downstairs room to be accessible and then make a plan to make the entire city hall accessible."
Accessible transportation
Not long after, she became involved in a new organization called the Maine Association of Handicapped Persons (MAHP). Among other things, she helped fight for accessible transportation. At the time, paratransit buses were available in Portland and South Portland but only with 72-hour notice for medical appointments. The group held educational forums, organized massive protests and even took out an ad on the buses that read, "If you can't walk, you can't ride."
In 1984, access to transportation was declared a civil right in Maine. "Maine became the first state in the nation to declare access to transportation a civil right," says Kathy.
The rest of the country took notice. She and other members of  MAHP joined organizations from around the country and they went on to sue the US Department of Transportation and Department of Justice to force implementation of regulations mandating accessible transportation. They won.
Civil rights
Kathy says they decided they couldn't keep "nickel and diming all the regulations" and that people with disabilities needed more than a law that gave them access to transportation, they needed a national civil rights bill. She was on the committee that helped draft that bill — called the Americans with Disabilities Act. The House of Representatives voted on it in May 1990. Kathy recalls the moment in her interview with Oral History and Folklife Research Inc.:
"And then the roll call was starting to take and you would see the lights and once it hit the magic number, which we all know for passage, there was this gasp. Is it gonna hit? Make it sure. And suddenly it passes and you could see some of the congresspeople, the representatives that worked on it just starting to get emotional, but they're silent and going, 'Oh my God!' And then there was this sigh through all of us and then within seconds, just roaring applause. Doors were flying open! And I'm saying, Get out, get out, get out! Let other people come in and see this while the board is still lit up. Let them see it!"
July 26, 1990, President George H.W. Bush signed The Americans with Disabilities Act (ADA) into law. Landmark legislation, it prohibits discrimination on the basis of disability by employers, public accommodations, state and local governments, public and private transportation, and in telecommunications.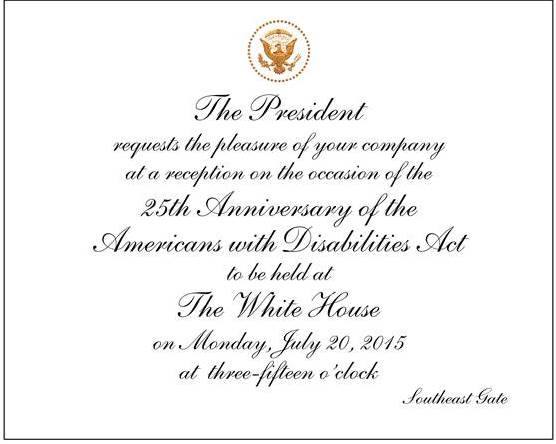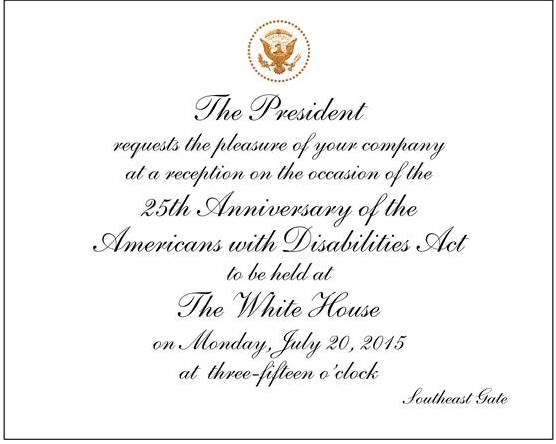 Twenty-five years later, Kathy received an invitation from the White House to attend a 25th ADA anniversary reception. "It doesn't seem like 25 years," she says, "but I've seen the change the ADA has made. I've also seen the Supreme Court and other courts water it down. There's a lot of things that need to happen to make things more equitable."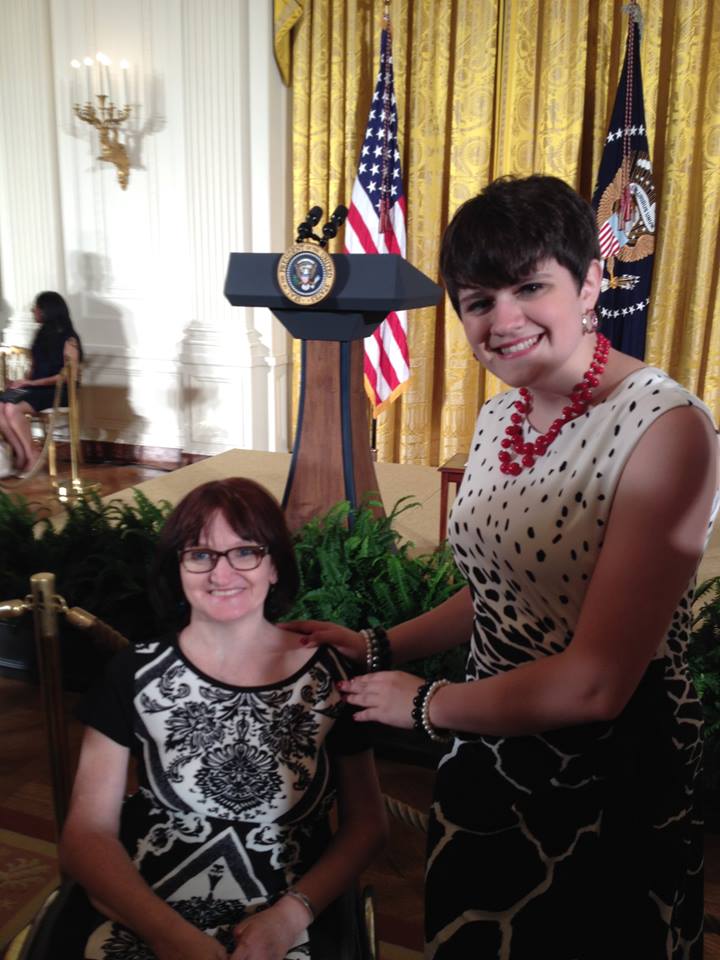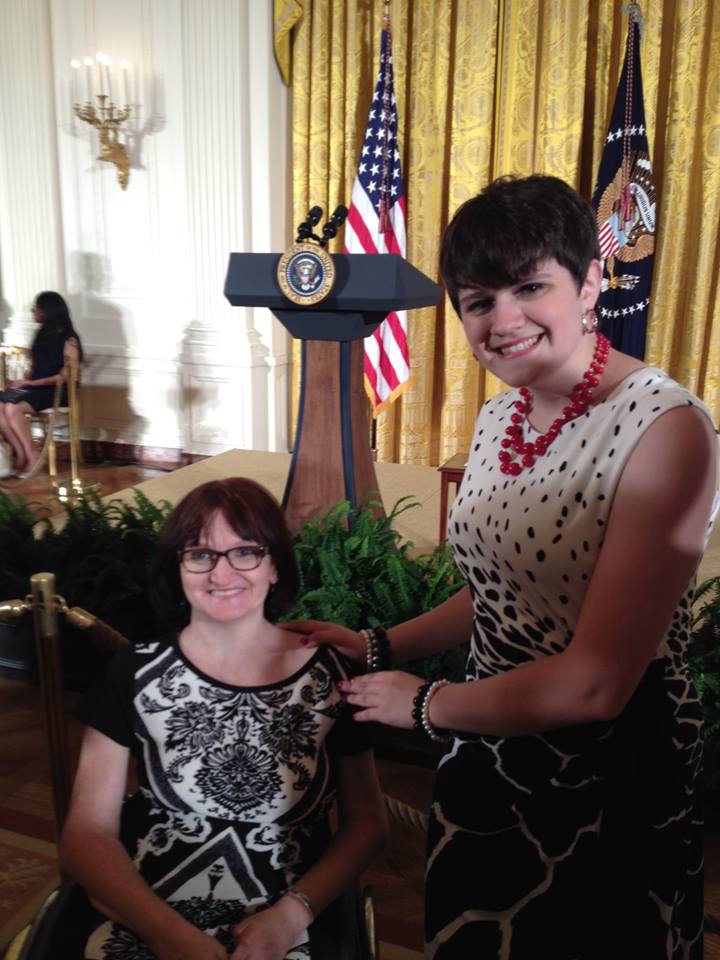 Accompanying Kathy to the White House reception was her daughter Sara, who is hearing impaired. Kathy wrote this on her facebook page: "Celebrating the 25th Anniversary of the ADA at the White House with my daughter Sara McInnis Misenor, the next generation of disability activists, was beyond words!"
Kathy also posted this message:
"As we celebrate the 25th Anniversary of the ADA, it is important to remember how far we have come and who helped us get there. I could list all the folks from the movement that were there at the start, there are fewer and fewer of us still here, but others have already done that. I want to thank all the parents, siblings and friends who, when access was but a dream, carried us upstairs or bumped us down curbs, helped in inaccessible bathrooms, learned sign language when translators were few and far between, read signs to us before braille was in elevators, and parents who, like my mother, carried signs with us at picket lines, watched us do civil disobedience and cheered, and who dared to dream that we would be independent once barriers were removed!!"
If you would like to better understand the ADA or learn more about disability rights, Kathy recommends Disability Rights Education & Defense Fund, Disability Rights Maine and ADA.gov as starting places.