You made a promise to yourself that as soon as the new year began you'd start getting in shape. It's a great idea. Only trouble is, you're not sure what you want to do. You've been mulling over some ideas — maybe join a gym, get a personal trainer, learn how to ski — but haven't made a decision or a move. Sounds like procrastination to me.
Dee Dee St. Peter says whatever exercise routine you do, find something that you love, that motivates you and keeps you going. She loves to dance and loves teaching Zumba, which is a dance fitness program. If you want a good cardio workout, there's nothing like Zumba, she says. Here she is leading a class at Center Stage Performing Arts in Raymond, Maine.
Zumba uses different styles of dance and music, such as salsa, merengue, samba, mambo, and hip-hop. Instructors create playlists that they usually keep going for a few weeks so people can get adjusted to the movements. Then they mix things up.
People do Zumba for a variety of reasons. "They come for weight loss," said Dee Dee, "or to get better coordinated, simply because they like to dance, or because they're social and want to meet new people. Zumba class is like a family, a big support family for each other."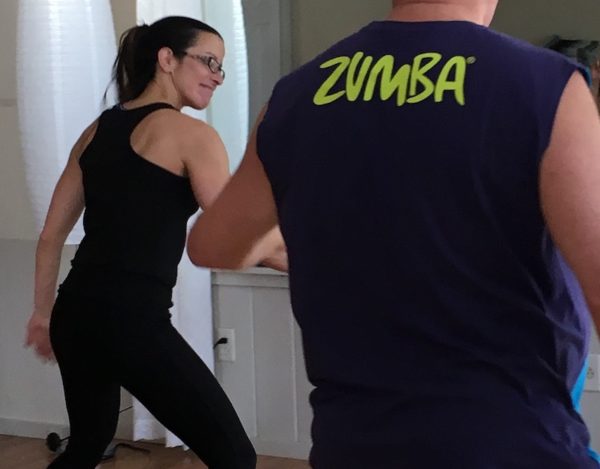 Vicki Toole also loves to dance and also teaches Zumba at Fountain of You Fitness in Naples, Maine.
She teaches all levels. In the video below, she's teaching a Zumba Gold class for beginners and older people. It's slightly less intense than other levels but still a workout. Like Dee Dee, Vicki says teaching Zumba is a joyful experience.
"See these beautiful people, they're laughing and smiling and feeling really good about themselves. I love that."
Most of the participants in both classes are women. But of course, you noticed the guy in the sleeveless shirt. That's 70-year-old Bill Keller. Having the time of his life. He takes both Dee Dee and Vicki's classes (and others) and highly recommends Zumba to everyone.
First of all, it's great if you hate exercising alone, which he does. "It's boring and time seems to drag," he said. "Zumba is a group exercise and I always enjoyed exercising in groups."
When he retired in 2003, Bill joined a local fitness center. "I started with the treadmill and weight machines but then began doing a program called Silver Sneakers. I enjoyed the music and the exercises we did together. After a while, I decided to challenge myself more with cardio kick, step aerobics, and some circuit-type group exercises — again, with lively music and a fun group of people."
When he took his first Zumba class, he says it was a killer workout. "It left me sweating and out of breath but really so much fun."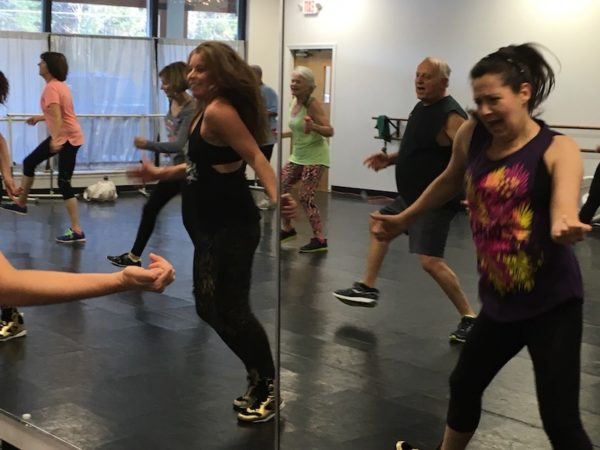 His early Zumba classes were with Dinah Aldrich, one of if not the first Zumba teacher in Maine. He still tries to follow her advice. "She always emphasized that it was all about shaking, sweating, and smiling and never about the steps, etc."
It didn't take long for Bill to "get hooked" on Zumba. He has a long list of reasons why:
I enjoy the relaxed atmosphere and the wonderful camaraderie
You quickly became comfy with the steps and the rigorous workout.
One hour of constant high-intensity exercise always flies by.
There are never any judgments if you miss a step (even the instructor might do that once in a great while).
New people are welcomed and encouraged to keep dancing and just have fun.
The routines work every muscle in the body, provide great cardio, some strength, and some balance training.
There is a Zen quality that allows me to be present in the moment. I rarely think of yesterday or tomorrow. My mind stays on the dance, my heart opens within. I smile. I sing. I sweat. I come away feeling refreshed in body and spirit.
It keeps my mind sharp. As I learn new steps, remember old ones, make corrections, I am using so many brain skills similar to working a puzzle but involving my muscles and nerves as well.
I've found that Zumba pretty much covers it all.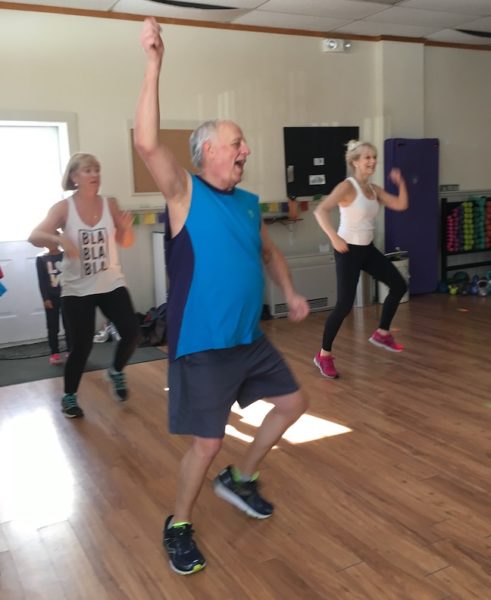 And what about being the only guy in the group most of the time? He doesn't mind a bit. "I just let my "feminine" side join the ladies and shake it as best I can," he said. "I appreciate the welcoming smiles and encouragement they give me and never feel out of place."
So … instead of procrastinating, maybe you should find a Zumba class in your community. That's what Bill recommends — for everyone, but he'd like to see more guys taking it up. "I only wish my fellow guy exercisers would give it a try and see how much fun and beneficial this way of exercising is."
"I think Bill is the smartest man on the planet," said Vicki. "He's surrounded by women, they're all laughing, dancing. He has a smile on his face every time he leaves."