When:
May 16, 2017 @ 6:00 pm – 7:30 pm
2017-05-16T18:00:00-04:00
2017-05-16T19:30:00-04:00
Where:
The Warrior Project
189 Main St
Lewiston, ME 04240
USA

Contact:
207 713 0674 or 207 740 2247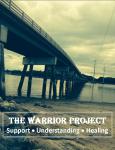 For those grieving the loss of a loved one by suicide. This is a non-religious based group facilitated by a loss survivor/social worker.
We welcome those who have recently lost someone to suicide, or those who are still feeling the impact even years later. It is a place to share your grief and learn how to live again by learning from others who have been through a similar experience.
The Suicide Survivors Grief Group meets most Tuesdays from 6:00 pm-7:30 pm at The Warrior Project, 189 B Main Street, Lewiston ME 04240.
If you haven't attended recently, please check our website (https://warrior-project.org) or call us to make sure we will be meeting (unexpected events sometimes happen).
Please enter through the back door off the alley on the Park Street side, right after Heritage Books & Maps, which is located at 5 Park Street in Lewiston ME 04240. There will be a sign posted on the door.
The groups are free, although donations to cover the cost of coffee, hot chocolate, cookies, etc are appreciated.
FMI: Call or text 207 713 0674 or 207 740 2247, or email Linda at LSnyder@regroupbiz.com.
We also have a group for those living with chronic emotional/psychic and/or physical pain and hopelessness, which meets on Saturday evenings from 6-7:30 pm. We expect to offer grief groups for children & teens soon.