When:
September 9, 2017
all-day
2017-09-09T00:00:00-04:00
2017-09-10T00:00:00-04:00
Where:
Back Cove Boulevard
Preble St Ext + 295 Forest Ave
Portland, ME 04101
USA

Contact:
Maine Brain Aneurysm Awareness Committe
207-495-2532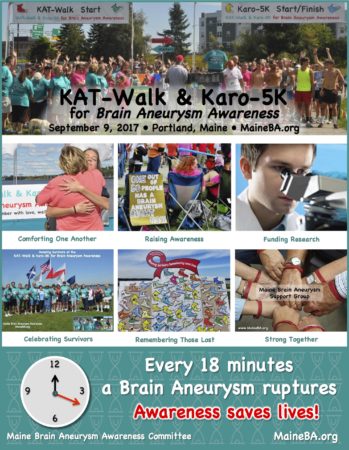 Lace up your walking and running shoes and join us for the KAT-Walk & Karo-5K for Maine Brain Aneurysm Awareness. This 9th annual event will benefit our local efforts to support early detection, education, fund research and create awareness about brain aneurysms in Maine and northern New England.
This year's event will be held on Saturday, September 9th, 2017, along the Back Cove Boulevard in Portland, Maine. The event starts at 11:30 a.m. on the pathway across from the Hannaford Plaza and the walk & run will take place at noon. The whole family is invited for a leisurely walk or to enter the timed 5K run. This will be a special day to remember and honor loved ones lost to or having survived a brain aneurysm.
September is Maine Brain Aneurysm Awareness Month. Join us as we "share our tears, remember with love, walk & run to honor" those families affected by this silent killer and help save lives!
More information about the event can be found at: www.MaineBA.org and find us on Facebook at: https://www.facebook.com/KatWalkKaro5k