When:
October 18, 2017 @ 6:30 pm – 8:30 pm
2017-10-18T18:30:00-04:00
2017-10-18T20:30:00-04:00
Where:
Jade Integrated Health (Portland)
100 Fore St
Portland, ME 04101
USA

Contact:
Jade Integrated Health
(207) 773-5778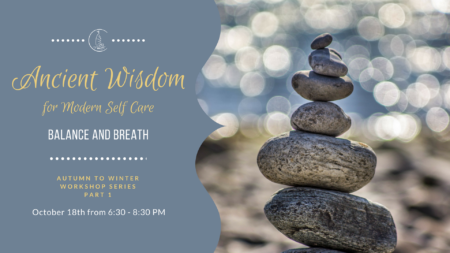 Balance and Breath
Explore Traditional Chinese Medicine, restorative yoga poses, acupressure and breath work to help alleviate sinus pressure and congestion. Your instructors will guide you through meditation and breath work, teach you specific acupressure techniques, lead you through restorative yoga poses ending with extended savanna and calming pranayama (breath work).
Autumn is the season of transformation. As the weather changes the seasonal shift impacts our daily rhythms. We become subjected to all manner of unexpected illnesses and stress brought on by life's bouncing rhythms. With the right kind of awareness in action, we can find balance and prevent illness.
This trilogy of workshops will provide you with skills that will help prevent illness and cultivate optimal health in body, heart and mind through simple and effective methods that are easy and fun to learn. You will be introduced to Traditional Chinese Medicine and a gentle range of yoga techniques to promote wellness and relaxation and to help you navigate through seasonal fluctuations mindfully. It is important that we change with the seasons, just as nature does, by adapting our daily habits.
Join for one class or participate in all three!
This workshop is led by Cleo Wolf, an acupuncturist, herbalist, and a NCCAOM Diplomate of Oriental Medicine, and Lauren Lauzier, a certified yoga teacher. Both Cleo and Lauren are a part of the Jade Integrated Health staff.
Additional Details:
Wear comfortable clothes
Traditional soothing seasonal herbal tea and a light snack will be provided, eat a light supper or a good lunch before coming to this evening class
We will provide eye pillows and introduce you to Traditional Chinese Medicine tools and you will receive printed instructions to take home with you
No yoga or Traditional Chinese Medicine experience needed
All props and mats are provided
This class is appropriate for all levels, including beginners
Register for individual dates or all three!
Dates:
Wednesday, October 18th, 2017 – Balance and Breath
Wednesday, November 15th, 2017 – Health in Your Hands
Wednesday, December 13th, 2017 – Preparing for Winter Hibernation
Times: 6:30 – 8:30 PM
Location: Jade Integrated Health (Portland): 100 Fore Street, Second Floor, Portland, Maine 04101.
Investment: $45 for individual dates or $120 for all 3!